Interpol highlights threat from terrorists using stolen passports
Comments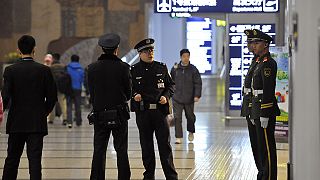 Stolen EU passports were used by at least two non-EU passengers to board missing Malaysia Airlines flight 370, which gives Interpol a timely opportunity to highlight the very real threat from lost and stolen travel documents.
If just one positive outcome were to emerge from the missing airline tragedy, perhaps it would be the threat from stolen passports being taken seriously by national authorities.
Euronews reporter Gabor Kovacs addressed the issue with Michael O'Connell, Interpol's Director of Operational Police Support Directorate. They began by speaking about airport security and the importance of checking passports thoroughly.
Michael O'Connell, Interpol: "We're spending a lot of energy screening for water bottles and other threats to be carried on the aircraft, but we are not possibly investing enough attention into confirmation of the identity of the individuals who are also walking onto those aircraft as well."
euronews: "Why are passports not systematically checked against the Interpol Stolen and Lost Travel Documents (SLTD) database? Is it too time consuming? It's there, but very few countries use it."
O'Connell:l "As we know, travel via aircraft predominantly is global in nature and so, as a consequence, you would hope that national authorities would be harnessing global intelligence to match with their national intelligence and Interpol's lost and stolen travel documents database which provides an additional layer of international intelligence to provide confidence as to the identity of the passengers that are travelling on the planes across the globe."
euronews: "The database has grown from a few thousand passports to more than 40 million passports that have been reported stolen and shouldn't be used. Isn't that worrying?"
O'Connell: "There is an uncomfortable number for sure that are out there travelling around the globe using the passports.
"We know that are in excess of 40 million passports and travel documents reported to us that shouldn't be used for travel in any means, and as a consequence of that volume we know that it is the responsibility of the boarding officials, the law enforcement officials, the national authorities trying to use that data to recover those documents and take them out from harms way."
euronews: "What would be the best way to eliminate the threat from criminals and terrorists using stolen and lost travel documents?
O'Connell: "We have seen that passport technology is evolving to utilise biometrics. The truest identity check is in biometrics married with the person's regularised national identity.
"A passport is used as a vehicle for marrying those presented to international authorities for authentication. So we still need to utilise the passport where we can use it with advancements of biometrics. Obviously that's the aspiration, but that can't be used globally at the moment.
"So we have to have the reliance on the old identifiers that we use in the passports married with the presence of the individuals at a border official to confirm their identity."