Syria: President al-Assad's forces focus efforts on strategic town near Lebanon
Comments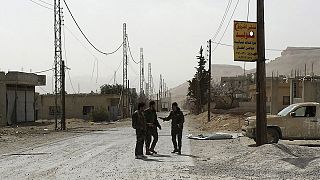 President al-Assad's forces and soldiers from the Lebanese Hezbollah are closing in on the border town of Yabroud in their attempt to drive out Sunni Muslim rebels. The government offensive aims to tighten hold on the Lebanese border region in order to increase control over central Syria.
The three week attack comes as part of "The Battle of Qalamoun", the name of the mountainous area of the Syria-Lebanon frontier used by both government forces and rebels for smuggling people and supplies.
The Syrian rebels, who consist mainly of the Syrian Sunni Muslim majority, have strong support from their Sunni Lebanese neighbors. Government troops aim to sever the rebel's support by dominating the mountainous border region.
Government troops will be launching their next assault against the rebels from the town of al-Sahel, which they took on Tuesday, according to Associated Press
The recent attacks have seen an influx of refugees into Lebanon fleeing from the violence.