UK: Singer David Bowie wades into debate over Scottish independence
Comments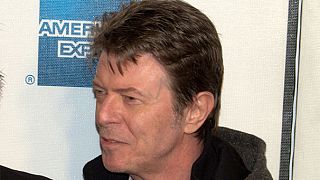 Sexagenerian singer David Bowie has waded into the controversial debate over Scottish independence from Britain.
The 67-year-old, who won best British male solo artist at the UK's Brit Awards on Wednesday, used his acceptance speech to say "Scotland, stay with us".
A national referendum on Scottish independence will be held on September 18, 2014.
Bowie, based in New York, did not attend the London ceremony, instead asking supermodel Kate Moss to accept the gong on his behalf.
Moss said: "David has asked me to say this. I'm completely delighted to have a Brit for being the best male – but I am, aren't I Kate? Yes. I think it's a great way to end the day. Thank you very, very much. And Scotland, stay with us."
Bowie's comments, which launched a debate on Twitter, come after a difficult week for the Yes campaign.
British chancellor George Osborne said a newly-independent Scotland would not be allowed to re-enter a currency union with the rest of the UK.
Meanwhile Jose Manuel Barroso, the president of the European Commission, said it would not be automatic for Scotland to become a member of the European Union.
Weird. If I'd won a Brit I was going to say: "Bowie, stay with us and not in New York where you've lived for years" #indyref

— David Schneider (@davidschneider) February 20, 2014
Folk are criticising Bowie's brevity, but tbf he gave as detailed a vision of how he sees Scotland's future as the No campaign has offered.

— Chris Brookmyre (@cbrookmyre) February 20, 2014
I assume that Bowie's albums will be banned in Scotland post independence? Can one of the two remaining SNP voters please confirm this?

— Tim Luckhurst (@TCHL) February 19, 2014
Blow for Salmond as expert in Scottish Politics from Manhattan University, Dr David Bowie, calls on Scotland to stay in the UK. #indyref

— Alistair Darling (@A_DarlingMP) February 19, 2014
Guardian commenters are finding Bowie's "stay with us" plea to Scotland a bit ironic from a man who doesn't live here http://t.co/SL6waRTbHw

— Jonathan Haynes (@JonathanHaynes) February 20, 2014
People asking why Bowie would appeal for Scotland to stay in the UK have forgotten: it's the sort of thing old blokes are bothered about.

— David Baddiel (@Baddiel) February 20, 2014