EU warns US: no lowering of standards in future trade deal
Comments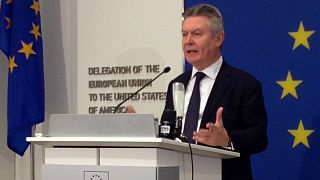 Entering the decisive phase of its transatlantic trade talks with the United States, the European Union strongly confirmed that it is unwilling to weaken existing regulatory standards, regardless of any opposition by American farmers or other pressure groups.
"We are not lowering standards on consumer or data protection, the environment or food safety", EU Trade Commissioner Karel De Gucht said in Washington on Tuesday after wrapping up two days of meetings with his US counterpart Michael Froman.
Answering questions of doubtful European reporters at a press conference, an angry De Gucht said repeatedly that the EU would not allow imported hormone beef from the US to access the EU market, "full stop!"
De Gucht and Froman assessed progress on the trans-Atlantic Trade and Investment Partnership (TTIP) negotiations, which began in July. A US-EU accord would unite the world's largest economic blocs, creating a free trade area that has about $33 trillion in annual economic output.
Political leaders and companies on both sides of the Atlantic say a deal will help boost economic growth. Organized labor and consumer groups have voiced criticism, fearing jobs cuts and lower regulatory standards.
Speaking at the Atlantic Council, a Washington-based think tank, De Gucht said that both sides identified issues on which they can agree, including a desire to ease trade for small and medium-sized companies, to uphold labor protections and to protect the environment.
They have also marked topics that need more work, such as establishing greater market access, setting rules to relax cross-border paperwork and reducing regulatory barriers, which De Gucht said would be the most difficult part of future talks.
"The consequence is that the next phase is going to be harder going. This is where real negotiations begin. If we want to finish on the now proverbial single tank of gas, our message to our negotiators now is that we need to step up a gear", De Gucht said.
Negotiatiors initially set the end of 2014 to reach an agreement. In recent months they have said that while they want to move quickly, it's more important to get the agreement right.
The two sides are seeking to bridge differences on issues including financial regulation, agriculture subsidies and country-of-origin labeling. De Gucht said he and Froman still believe the talks are "on track." The next round of talks takes place in Brussels the week of March 10.
However, political barriers have been rising on both sides of the Atlantic. In the US, President Barack Obama's Democratic Party does not seem to be enthusiastic about TTIP. Senate majority leader Harry Reid recently came out against giving his administration a fast-track negotiating authority to conclude trade deals.
Washington observers don't believe that Congress is inclined to pass wide-ranging trade agreements ahead of the November elections. The political environment in many states is such that job losses are routinely blamed on the effects of the North American Free Trade Agreement (NAFTA) – twenty years after that deal came into force.
And there is electoral uncertainty in Europe as well. EU elections in May could change the complexion of the European Parliament, stacking it with more populist sceptics who could torpedo a deal with Washington.