No, four-year-old Marwan fleeing Syria was not "alone" in the desert
Comments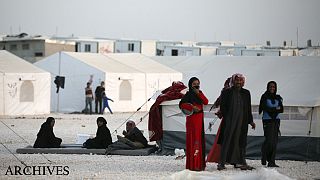 A heartbreaking picture that went viral yesterday on Twitter showed a four-year-old boy, identified as Marwan, who appeared to have just been found in the desert by UNHCR staff.
UN staff found 4 year-old Marwan crossing desert alone after being separated from family fleeing #Syria. pic.twitter.com/YdCt7gZrcN

— Hala Gorani (@HalaGorani) 17 Février 2014
It has now emerged that, contrary to what euronews initially reported, little Marwan, while separated from his family for a period of time, was not alone.
A discussion thread initiated on the Open Newsroom G+, a journalistic community dedicated to verifying online news, mentions that Guardian journalist Shiv Malik, quoting a UNHCR press officer on the scene, said the child was "20 steps" ahead of his family.
Read the Storify of the discussion here: