Ugandan president to sign tough anti-gay laws
Comments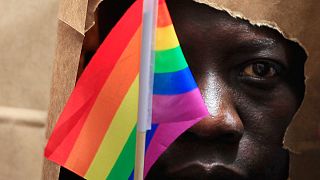 Ugandan President Yoweri Museveni has announced he will sign a new law that makes homosexuality punishable by life in prison.
The U-turn comes as a shock as Museveni indicated last month that he was planning to block the bill after it drew harsh criticism from human rights groups and Western business donors.
According to Ofwono Opondo, a government spokesperson, Museveni announced his latest decision before members of the ruling NRM party on Friday February 14.
Just earlier this month entrepreneur Richard Branson told euronews in an exclusive interview that a group of prominent business people had worked together to help convince Museveni to overturn the law: "We got together a group of business people who could talk to the president and the president changed his mind and vetoed the law," Branson revealed.
Opondo explained the president's turnaround saying: "This law is very popular both in Parliament and in Ugandan society…The president is under pressure at home to sign the law".
Opondo also posted to Twitter that the NRM welcomed the president's decision.
The NRM caucus has welcomed the development as a measure to protect Ugandans from social deviants

— Ofwono Opondo (@OfwonoOpondo) February 14, 2014
The law, which was supported by a large majority of the Ugandan government, criminalises "the promotion or recognition" of homosexual relations. An earlier form of the bill in 2009 initially proposed the death penalty but international outcry helped to overturn this version. As it stands, first-time offenders will face a 14-year prison sentence, while repeat offenders could be sentenced to life in prison.
Earlier in the year a spokesperson for the president said he opposed the law, not because he approved of homosexuality, but because he thought "these people have the right to exist".
However last week Museveni said he had changed his mind after consulting a group of scientists that was established to "study homosexuality and genetics".
This comes after 14 medical experts presented a report that homosexuality is not genetic but a social behaviour

— Ofwono Opondo (@OfwonoOpondo) February 14, 2014
US President Barack Obama warned Museveni that enacting the law would complicate their relations, calling it a "step backward for all Ugandans". Currently the US is one of the largest foreign aid donors to Uganda, giving more than 400 million dollars annually in recent years.