Spoiler alert: pictures from Sochi's official opening ceremony
Comments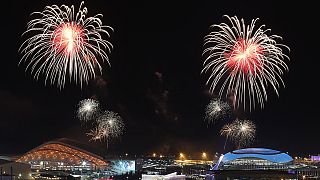 With the official opening of the Winter Olympics in Sochi just around the corner, several photos and videos showing rehearsals of what is going to take place tonight have appeared on social media.
Euronews selected some of the best to give you a taste of what to expect from the event.
Fireworks rehearsal
t.A.T.u. warming up
Second confirm about #tatu in #Sochi : #Rehersal 06.02.2014 pic.twitter.com/8puXLg8XjS

— t.A.T.u. Italia (@LenaJuliaItaly) February 6, 2014
Female pop duo t.A.T.u. will perform at the Sochi Olympics' opening ceremony. Lena Katina and Yulia Volkova will sing their biggest international hit, "Not Gonna Get Us" Russian media report. In Russian language, their name means "this girl loves that girl."
Olympic Flame
Olympic Flame in Sochi #nocomment#SochiProblems#Sochi#SochiFailpic.twitter.com/qyl773tnN2

— Sochi Madness (@SochiMadness) February 6, 2014
Fireworks display over Olympic Park
Fireworks display over Olympic Park in Sochi pic.twitter.com/oQgpOlkY1w

—

RIA

Photos (@riaphotos_en) February 5, 2014
t.A.T.u. – Nas Ne Dogonyat
Operatic soprano Anna Netrebko, 42, will perform the Olympic anthem at the opening ceremony of the Sochi Winter Olympics.
Netrebko holds dual Austrian and Russian citizenship and resides in New York City. She is a star of the classical music scene and has performed at many of the world's major opera houses in her 16-year career.
Anna Netrebko "Il bacio" by Arditi
Russian Army — Get lucky cover (Daft Punk)
Rehearsal photos