LGBT activists hope to make the Sochi Olympics the Gay Rights Games
Comments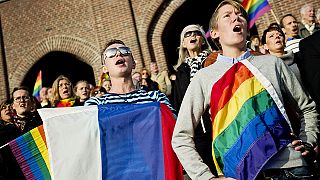 In the final sprint before the Sochi winter Olympics begin, UN Secretary-General Ban Ki-moon has condemned sexual discrimination and attacks on homosexuals in comments that echo concerns over Russia's "gay propaganda" law. But Ban's is just the latest high-profile voice to be heard on the issue, joining those of scores of fellow politicians, NGOs and celebrities.
While Ban made no explicit reference to Russia's gay rights record in his speech to Olympic officials in Sochi on Thursday, his remarks underlined the intense scrutiny Russia is under regarding the issue.
Watch UN Secretary General Ban Ki-moon's speech
"Hatred of any kind must have no place in the 21st century," Ban told a meeting of the International Olympic Committee. "We must all raise our voices against attacks on lesbian, gay, bisexual, transgender or intersex people… We must oppose the arrests, imprisonments and discriminatory restrictions they face."
"I know that there has been some controversy over this issue. At the same time I appreciate President Putin for his assurance that there will be no discrimination whatsoever," Ban told reporters after delivering his speech. Sochi could be "a venue where all the people, regardless of their sexual orientation, LGBT, all these people, will be able to enjoy harmony and friendship and mutual respect," he said.
Heavy criticism
Russia, hosting a winter Games for the first time, has come in for sharp international criticism over the law banning "gay propaganda" among minors, with critics saying it curtails the rights of homosexuals and discriminates against them.
A planned day of protest in 19 cities across the world on Wednesday failed to draw big crowds. But telecoms company AT&T, a sponsor of the US Olympic team, has publicly opposed the Kremlin's attitude to gay rights: "Russia's law is harmful to LGBT individuals and families, and it's harmful to a diverse society," AT&T said in a blog post headlined "A Time for Pride and Equality."
Human rights activists too have been expressing their concern for months.
The International Lesbian and Gay Association – Europe (ILGA-Europe) issued a statement calling "on leaders of European and other countries not to send high-ranking officials to Sochi 2014 Olympics as a sign of protest against ongoing human rights violations in Russia."
In the statement, the NGO explains that it "believes the current approach by the Russian authorities is incompatible with principle 6 of the Olympic Charter, which states that any form of discrimination with regard to a country or a person (…) is incompatible with belonging to the Olympic Movement."
Among the political personalities to have announced their boycott of the Games, European Commission Vice President Viviane Reding tweeted the following explanation:

I will certainly not go to Sotchi as long as minorities are treated the way they are under the current Russian legislation

— Viviane Reding (@VivianeRedingEU) 9 Décembre 2013
The "principle 6" mentioned by ILGA-Europe has developed into a full-fledged campaign with a website, social media platforms, online petitions (signed by more than 400,000 persons including "dozens of Olympic and professional athletes"), videos and even t-shirts.
Watch the #LoveAlwaysWins video
Some athletes are planning to openly criticise the law, even if the Olympic Charter explicitly states that "no kind of demonstration or political, religious or racial propaganda is permitted in any Olympic site, venues or other areas." Radio Free Europe reported that "proposals have included holding hands with fellow athletes of the same sex during opening ceremonies or wearing pins, earrings, nail polish, or other accessories representing the rainbow flag – an international symbol for LGBT rights."
On a lighter, yet powerful note, the Canadian institute of Diversity and Inclusion chose humour to address the issue. The subtly steamy homoerotic video with its provocative punch line has already gathered more than 170,000 views in a few days.

Watch the CIDI video
(with agencies)