Spanish cargo Luno breaks in two after washing up on Basque coast; one wounded
Comments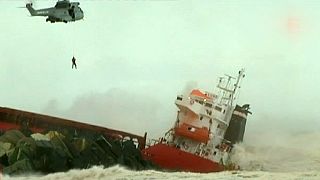 The Luno, a Spanish cargo ship suffering engine failure as she left the port of Bayonne in the French Basque Country, has been washed ashore on a dyke near Anglet. There, pummeled by the waves caused by the bad weather, she broke in two.
The crew, among which at least one sailor is wounded, has been evacuated by helicopter. The rescue operation has been made "very difficult," according to local authorities,by winds blowing up to 110km/h.
The ship wreck lies a few dozen meters away from beaches. A diesel leak has been spotted, the air allegedly smells like fuel oil, and local authorities have triggered an anti-maritime pollution plan.
Tweet pictures and video of the accident
Cargo échoué anglet pic.twitter.com/CLLT8zeqGo

— Bleu_Pays_Basque (@Bleu_Basque) 5 Février 2014
Échouage cargo espagnol anglet pic.twitter.com/A7PlPwIYGb

— Bleu_Pays_Basque (@Bleu_Basque) 5 Février 2014
@Ville_Anglet active son Plan de sauvegarde suite au cargo d'engrais échoué sur la digue. Odeur fuel. @Jeremytrottinpic.twitter.com/cgo0EdR59r

— SecuCivile 2.0 (@PersoSecuCivile) 5 Février 2014
@Ville_Anglet active son Plan de sauvegarde suite au cargo d'engrais échoué sur la digue. Odeur fuel. @Jeremytrottinpic.twitter.com/cgo0EdR59r

— SecuCivile 2.0 (@PersoSecuCivile) 5 Février 2014
#anglet bateau copie en deux!!! pic.twitter.com/AJF7K4t05A

— xavi hausseguy (@hausseg) 5 Février 2014
Forte odeur de mazout, l'équipage du navire est en cours d'evacuation #naufrage#angletpic.twitter.com/CKChcpW58j

— Emilie Chavaroche (@EChavaroche) 5 Février 2014
Main picture: @EChavaroche