Chinese usher in Year of the Horse, biggest holiday in biggest country
Comments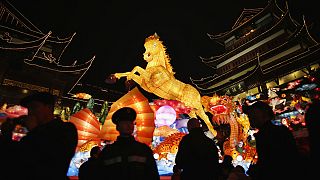 Chinese New Year (Gua Nian) 2014 falls on January 31. Enter the Year of the Horse. Exit Snake. The Chinese calendar, based on the phases of the moon, dates back many centuries.
Many people working far from home in China return to family ahead of the two-week holiday period. The financially well-off travel to resorts.
In a country with a population of 1.35 billion, that puts a strain on moving around.
The migration involved translates into several billion journeys — by road, rail and plane. It can be tough to get a train ticket, and it can mean standing, jammed in with fellow passengers over long distances, for many hours.
Festivities also happen in other Asian countries, and in Chinese communities around the world. The holiday is bright, colourful and loud, with lots of fireworks (posing safety and pollution risks), lanterns, dragon and lion dancing, feasting and symbolic food-offering and visits to Buddhist and Taoist temples.
Some of the traditions attached are: giving red envelopes with money in them to children, making amends and getting a haircut.
In Hong Kong especially, horse racing is very big on the first day of the New Year.
The Chinese Zodiac, known as Sheng Xiao, is based on a 12-year cycle. Each year in that cycle has an animal sign: rat, ox, tiger, rabbit, dragon, snake, horse, sheep, monkey, rooster, dog and pig.
Some have mixed feelings around this time, embarrassed about returning to see family, for example because they remain unmarried (fewer women than men is a serious growing problem in China) or because they are disappointed with their earnings. Others can't because they haven't been paid by their employers.