Ukraine: 'diplomacy trumps brutality in heart of Europe'
Comments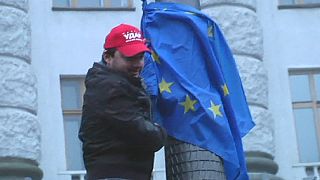 Many Ukrainians take the European Union flag seriously as a pro-democracy banner. Last 24th of November, they still felt their country might clinch an association agreement with the EU. President Viktor Yanukovych had gone on with a Customs Union with Russia instead. Now, peacefully, they urged him to go back on his choice.
One demonstrator said: "It's no longer enough to choose a policy or a particular party, one has to express the values that we have chosen to pursue. These aren't just political flags here. There are lots of Ukrainian flags and European flags."
Now, rather than flags flying there are stones, petrol bombs and chunks of ice, and not just in the capital but across Ukraine, even in cities of the mostly Russian-speaking east where support for Yanukovych was previously robust.
Shooting deaths came next, with denials over responsibility.
There was no denying armed police publicly humiliating a captured demonstrator, stripping him outdoors in minus ten Celsius. His body bore marks from plastic bullets and beating. Police filmed the scene, and the video leaked out.
European Council President Herman van Rompuy reiterated the offer to sign the Association Agreement with the Ukrainian government, while making clear what others feel about the behaviour going on.
Van Rompuy said: "In light of the tragic and fatal recent escalation of violence in Kiev I strongly deplore and condemn the unjustified use of force and brutality by the Ukrainian authorities against demonstrators."
In Kyiv itself, European Commissioner for Enlargement and European Neighbourhood Policy Štefan Füle urged Yanukovych to keep the promises he had made to the opposition and keep negotiating with them, over their demand for early elections. Füle also called on the opposition leaders to disassociate themselves from anyone acting violently.
We asked a French former ambassador to Ukraine (2005-2008), Jean-Paul Véziant, for comment.
Iryna Gibert, euronews: "Ukraine is going through its greatest crisis since independence. Kiev is a theatre of violent clashes between protesters and enforcers of the law. What's your impression, seeing the pictures coming out of Ukraine?"
Jean-Paul Véziant, French former ambassador to Ukraine: "I wonder how they got here since 21 November. Some are even talking in terms of civil war. If a part of the people demonstrates and another doesn't, part of Ukraine is silent over this. I think the silent Ukraine doesn't approve of what's happening in Maidan Square. But we can't go so far as to say it is at war with the other part of Ukraine. In the heart of Europe today, to have this police violence, these abductions, this brutality, demonstrators who are humiliated, journalists who are beaten… I cannot understand it. It is hard to stomach, especially since we thought all of that was part of a time we'd left behind. Remember December 2004, when tension was high but there were no deaths, there was a will for dialogue. The peaceful determination in those demonstrations forced the sides to talk, and changed the way things went. Is it possible today to remember the Orange Revolution spirit of December 2004? Is there still time to return to it? I don't know?"
euronews: "When you were France's ambassador to Ukraine, you took part in the two countries' cultural and economic engagement. Does that have a future?"
Véziant: "Oh, yes, it has a future. Some might think that everything done over all these years has been lost, but certainly not. It is all an investment, which has resulted in mutual understanding, mutual respect, which isn't going to be wiped away overnight. I believe that the vast majority of Ukrainians are very attached to the development of these relations. They know very well that Europe is not offering a new strategic space, it's not membership in NATO, it's more cooperation, encouragement for industrial development. And I believe deeply in the prosperity that has already been sown."
euronews: "What could Europe do so that stability and calm return to Ukraine?"
Véziant: "The European Union considers it is up to the Ukrainians to choose freely for themselves, democratically, free of outside pressure, and with continuity, which is to say that when one commits to a way forward, one sticks to that. I'll just reiterate that the proposals for signature of the Association Agreement made by Brussels are still on the table. What could Europe do? Europe will not impose anything. It wants Ukrainians to be able to choose. But for that trust will have to be re-established. This trust has, manifestly, been broken. It might be necessary that a third party step in, as a sort of guarantor of sincerity, of trust that will have to be re-established between different political forces in Ukraine. I believe most sincerely that diplomacy has the resources for this, that diplomacy can make proposals, it can work better than any police repression ever could. But for that there has to be the political will, and it had better happen very fast, before things get out of control, one side or the other's. That's what I wish for your country, for Ukraine. Thank you. I wish you good luck."