Widower 'eats man's leg' in Central African Republic revenge attack
Comments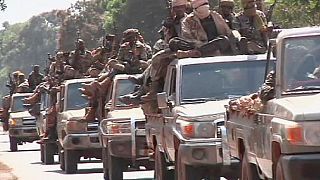 A widower ate a part of a man's leg in a horrifying revenge attack in the Central African Republic (CAR), it's emerged.
The man told the BBC he took part in the attack after Muslims had killed his pregnant wife, sister-in-law and her baby.
A mob of around 20 youths, including the widower, forced a bus to stop in the capital Bungui, and dragged a Muslim from it, according to the broadcaster. Their victim was then beaten, stabbed and set on fire. Footage seen by the BBC reportedly shows the widower eating the man's leg.
It comes after a Christian militia attacked the capital in December. The subsequent violence left 1,000 dead and nearly a million displaced.
The country is under a transitional government after the resignation of Michel Djotodia.
CAR has endured a series of attacks and counter attacks by Christian and Muslim militias.
It has suffered five coups since gaining independence from France in 1960.