Senior UK figures could go before International Criminal Court over Iraq allegations
Comments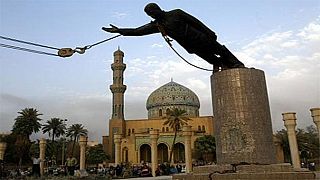 Senior political and military figures could be tried at the International Criminal Court over alleged abuse by UK forces in Iraq, it has emerged.
The head of the British Army, General Sir Peter Wall, and former defence secretary Geoff Hoon, are among those reportedly named in a 250-page dossier alleging the abuse.
But current UK foreign secretary William Hague said the application should be rejected because the allegations are already under investigation or have been dealt with.
The dossier, which claims to represent more than 400 Iraqis, was submitted by Public Interest Lawyers. It is said to detail allegations, between 2003-2008, of beatings, electrocution, mock executions and sexual assault.
The application says those most responsible for alleged war crimes "include individuals at the highest levels" of the British army and political system.
A spokesman for the UK's ministry of defence said: "We reject the suggestion the UK's Armed Forces, who operate in line with domestic and international law, have systematically tortured detainees."
In 2006 Corporal Donald Payne became the first British soldier to be convicted of a war crime over abuse of prisoners at a detention centre in southern Iraq.