Chaudhry Aslam, policeman with 'nine lives' loses to Taliban in Karachi
Comments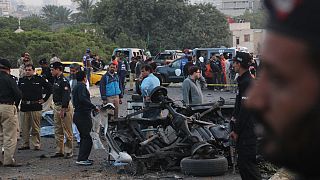 The Taliban in Pakistan have claimed a "huge victory" with the suicide car bomb killing of top police Superintendent Chaudhry Aslam, who had a reputation as "Pakistan's toughest cop".
A car packed with explosives rammed his vehicle in Karachi.Three other officers died with him.
Aslam had been a Taliban target for years, surviving eight other attempts on his life, he said in 2011.
Around 200 police officers were killed in 2013 in Karachi, home to 18 million people.
Aslam rejected criticism of his police force when human rights advocates said police were involved in extra-judicial executions. The Taliban said so too.
Aslam often complained about the lack of police funding, training and equipment. Many officers do not have enough bullets for their weapons, have no training in evidence gathering and do not earn enough to support their families.
In recent years, the Taliban has expanded its influence in areas dominated by ethnic Pashtuns fleeing fighting along the Afghan-Pakistan border, and in Karachi.
This article was redacted from Reuters agency reports.