Aurora Borealis: cold comfort after 'polar vortex' in the US
Comments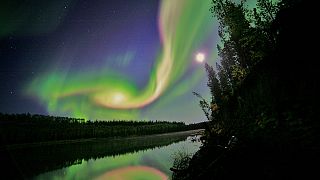 After experiencing the chillingly harsh realities of Arctic life with the Polar Vortex, Americans are in for a brush with a more benevolent freak of northern nature – the Aurora Borealis. In the coming days the spectacular light phenomenon will be visible in more southerly latitudes than normal.
A massive burst of solar wind has reached Earth and caused the Aurora to shift southward.
Forecasters at the US National Oceanic and Atmospheric Administration are predicting skywatchers in Chicago, Detroit and perhaps even New York and Washington may be able to glimpse the shimmering clouds of greenish-purple light for a few days at least, from Thursday.
That is provided they have clear skies.
The heavenly starburst effect may also be seen from Ireland, northern Britain and other parts of northern Europe.
The science website EarthSky tells us we can thank the sun for this ethereal display: Great storms on the sun send gusts of charged solar particles hurtling across space. If Earth is in the path of the particle stream, our planet's magnetic field and atmosphere react. When the charged particles from the sun strike atoms and molecules in Earth's atmosphere, they excite those atoms, causing them to light up.
For the those who have shuddered through the extreme cold of late the Aurora will bring some light relief.