Former Germany star Thomas Hitzlsperger reveals he is gay
Comments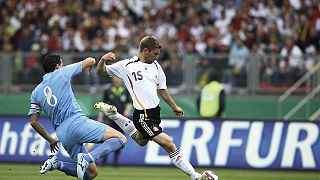 Former international midfielder Thomas Hitzlsperger has become one of the few high profile sportsmen, and the first well-known German footballer, to publicly reveal that he is gay.
"I'm making my homosexuality public because I would like to advance the discussion of homosexuality among professional athletes," he told Die Zeit in an interview to be published on Thursday.
The 31-year-old, who retired in September, played 52 times for Germany between 2004 and 2010 and spent his club career at Aston Villa, VfB Stuttgart, Lazio, West Ham United, VfL Wolfsburg and Everton.
"In England, Germany and Italy, homosexuality is not an issue that is discussed in earnest, not in the dressing-room at any rate," he said.
Despite its global popularity, soccer has seen very few gay players come out, especially during their active careers as the fear of a negative reaction from coaches, team mates and fans forces them to keep their sexuality secret.
Hello everyone! All these messages about my news, I am overwhelmed from this and I can't say thank you enough times!

— Thomas Hitzlsperger (@ThomasHitzl) January 8, 2014
Britain's most famous case was that of former Norwich City striker Justin Fashanu, who came out in a tabloid newspaper in 1990 and committed suicide eight years later. Former Leeds United player Robbie Rogers quit soccer and came out as gay after being released by the Yorkshire club last year.
The American's decision to restart his career at Los Angeles Galaxy prompted the New York Times to dub him "the first openly gay man to participate in a prominent North American pro league when he made his debut against the Columbus Crew in May.
Three years ago, Germany captain Philipp Lahm said that homosexuals should not come out because the repercussions could be too devastating.
"I would fear that he could end up like Justin Fashanu who after he outed himself was driven into such a corner that he ended up committing suicide," he said.