French court approves Francois Hollande's controversial super tax
Comments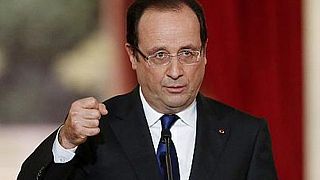 A French court has approved a highly controversial "millionaire tax" on annual salaries above €1 million.
The super tax, one of President Francois Hollande's signature policies, has infuriated business leaders and football clubs.
It was pushed as a tax to make the rich do more to pull France out of its economic crisis.
The levy was initially aimed at individuals before being reworked to make companies liable.
France's Constitutional Council gave the tax the green light on Sunday.
The tax, for earnings in 2013 and 2014, will hit around 470 companies and a dozen football clubs. It is expected to raise €210m a year.
Tax increases designed to reduce France's budget deficit have fuelled rising discontent in the country, with recent polls giving Hollande the lowest approval rating of any French president on record.
His 2012 super tax election pledge infuriated high earners in France and prompted actor Gerard Depardieu to flee the country.
It has also alienated entrepreneurs and foreign investors, who have accused Hollande of being anti-business.
Hollande has said that the wealthy should contribute more to help to repair the country's finances, arguing that the super tax should also encourage companies to curb excessive executive pay.