Mother and her kidnapped daughter reunite 30 years later
Comments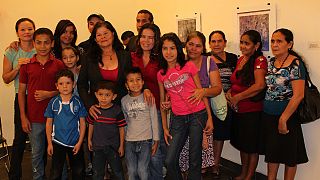 Three decades ago the bloody and brutal civil war in El Salvador tore a little girl away from her mother. Now, Josefina Osorio Henriquez is able to hold that daughter, Xiomara, in her arms again.
"I kept looking for her until at last I found her," said the 54-year-old peasant farmer in a trembling voice, after meeting her daughter, now 31, for the first time since. Government soldiers had entered the village of Burrera in San Jacinto canton during a 1984 military operation against leftist guerrillas.
Lorenzo Flores Amaya hid his wife Josefina and daughter Xiomara, then just 2-years-old, in a hole in the ground, promising to return. But he was killed in the subsequent gun battle between the government troops and the Farabundo Marti (FMLN) guerrillas he was fighting for.
The soldiers found his wife and daughter, and police officers in San Vicente removed the little girl from her mother.
"A policeman took her away from me and I never saw her again," Josefina said. Xiomara was later passed on to another family. "I can remember very little," she said.
"But I know that a police officer stole me and gave me to my adoptive mother. She baptised me under the name Carolina."
The little girl grew up with her new family in Santa Ana in the west of El Salvador. "I had a normal life with my adoptive mother. She died four years ago," Xiomara said.
"I am now married, have three children and dedicate myself to taking care of them." Josefina and Xiomara were reunited by the organisation Pro Busqueda, which was founded in 1993 by the Jesuit priest Jon Cortina to look for children kidnapped during the 1980-92 civil war.
A DNA test confirmed that Josefina and Xiomara, who look very similar, are indeed mother and daughter. Pro Busqueda has collected information on around 800 child abductions and cleared up some 300 so far.
Child abduction was part of the scorched earth strategy of Salvadorean government forces during the 12-year war.
The aim was to demoralise the communities they saw as providing a "social basis" for the guerrillas, although around 10% of the abductions were carried out by the rebels themselves, according to Pro Busqueda. Josefina and her daughter now plan to make up for lost time.
"Now that I have got to know my mother and my brothers and sisters, I want to catch up on the times I have missed," Xiomara said. "Thank God we can do that now."
SAPA