New snowy Cairo picture debunked
Comments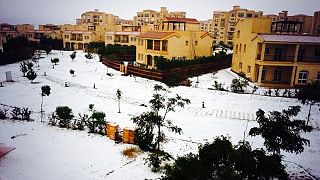 After last week's first snowfall in Cairo in 112 years, several pictures have been circulating on social media of the Egyptian capital or landmarks under a white blanket. However some have been proved to be fake.
For instance, the image in the following tweet was debunked by the collaborative efforts of journalists in Storyful's Open Newsroom.
No it is not Switzerland. This is how #Sinai looked yesterday. مصر بقت أد الدنيا أهو Lollllz pic.twitter.com/t1HdB9n1js

— Jasmine Elnadeem (@Selnadeem) 13 Décembre 2013
Indeed, this picture, as Open Newsroom notes, has been circulating since at least January 8, 2013.
Another example is a picture of the Pyramids and the Sphinx under snow, which actually is a shot of a Japanese miniature park's copy of the monument.
This #photo of the sphinx covered with snow is from a miniature exhibition in #Japan, not #Egyptpic.twitter.com/1cu2HaJbp7

— Egyptian Streets (@EgyptianStreets) 14 Décembre 2013
It seems one more picture needs to be added to the list of debunked snowy Cairo images.
On December 14, the Twitter account @HistoryInPics posted this:
Snow has fallen on the pyramids for the first time in 112 years. pic.twitter.com/pzXTqdHvGp

— History In Pictures (@HistoryInPics) 14 Décembre 2013
But social media users were quick to note the similarities between this image and another picture, and called the original poster on it.
Oh hey @HistoryInPics. Say, isn't this the same photo, but without the crappy filter? Wow. I think it is… pic.twitter.com/KdgT09X6Ha

— Mikey Smith (@mikeysmith) 14 Décembre 2013