Ali Zeidan, PM of Libya tells euronews he hopes his government won't be forced to take action to open oilfields
Comments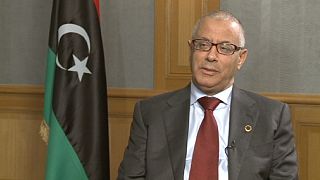 Over two years after the fall of the Gaddafi regime, Libyans are still dreaming of law and order. But they find themselves surrounded by chaos, in an explosive environment under the control of both tribal and extremist militia. Libya has become a source of concern throughout the region. To discuss topics such as disarmament, security, economy and the vision for the new Libyan state, Euronews talked to the President of the interim government in Libya , Mr Ali Zeidan.
Daleen Hassan, euronews: "The world wants to hear from you, what is happening in Libya?"
Ali Zeidan, Libyan Prime Minister: "What is happening in Libya is the natural fallout of a huge event that shook the whole of Libya at different levels. It caused a situation of insecurity, which provoked negative repercussions. This state of affairs is normal in the transitional phase, although it harmed the Libyan people. I really wish that we could have avoided the crisis we went through to reach this stage but realistically, in the circumstances, that was not possible. I see that there are still great hopes to change the situation and I think that now there is some degree of control."
Daleen Hassan , euronews: "As an interim government, you were tasked with leading the transition from the previous system to a safe institutional state. Do you think you've been successful in your mission?"
Ali Zeidan, Libyan Prime Minister: "In my opinion, at least over the past three months, we have seen significant development, the most important part being that we have actually established an army and a police force. Lately we have seen the first police officers graduate, and they have begun working on the task of maintaining security in the streets."
"Armed brigades are now on their way out of Tripoli. Secondly, we are working on integrating all militia members wanting to join the army or the police.
"We are in a process of intensive training and this will help to improve the security situation, and the government will be able to function more productively, especially with the support of our people.
"If there were no cooperation between the government and the National Congress, we couldn't advance in our work. I can confirm that there is an understanding between us, so we can move to another stage and bring stability to the country.
"Our government is working according to National Congress legislation. For one year, we have been going through tough times, which are still ongoing.
"Compatibility between Libyan parties exists and we are looking to get better convergence of views and ideas. We have made great strides in this matter, and we are getting close to electing a committee to write a constitution."
Daleen Hassan, euronews: "When do you expect to hold the next presidential elections in Libya?"
Ali Zeidan, Libyan Prime Minister: "So far, we do not know how the constitution will be written and whether Libya will be under a presidential system or a different system. This issue will be decided after the constitution has been written. In my estimation, that will be six months after the constitution is adopted."
Daleen Hassan, euronews: "The eastern region of Libya has called for the establishment of a federal state. What is your position on this matter? Do you envisage a federal government in Libya in the long run?
Ali Zeidan, Libyan Prime Minister: "It's a limited number of people from the eastern region that have demanded this and it was absolutely rejected in various other places in the Eastern Province.
We want to emphasize unity in Libya; federalism is out of the question. We are against centralism. It's true that some people resent the centralism in the capital at the expense of other areas. I mean, some people think good services and development only exist in Tripoli and its suburbs.
But this is not true because services were absent from Libya entirely. We're looking to establish local administration in every region of the country.
Daleen Hassan, euronews: "Let's talk about the economy. Libya is well known as a rich oil state, but recently we've been hearing of significant losses – thought to be around 7 billion dollars – from well closures. How do you you intend to deal with this? Is the Libyan economy in danger?"
Ali Zeidan, Libyan Prime Minister: "The Libyan economy is not in danger. The general state budget is set annually according to the previous year's resources. It's true that the rate of oil production has declined significantly, but we still have oil underground. Therefore, the magnitude of the loss in terms of the decrease in production and the disruption to state oil apparatus is huge. Importantly, I'd like to point out that we are in discussions to open up pipelines at the ports in order to export the oil. And this will take place in the coming days. If we succeed, it will be ideal, but if we don't, we hope this will happen peacefully and we hope that we will not be obliged to take more severe action."
Daleen Hassan, euronews: "Tunisian authorities have complained about Libyan weapons being leaked to Tunisian extremists. How can you better police the border with Tunisia and is this possible under current circumstances?"
Ali Zeidan, Libyan Prime Minister: "This issue must be solved by the effective solidarity of both countries. I told the Tunisian President that we should cooperate fully in order to adjust security and mobility across the border of both countries, and to ensure their safety and security.
"To ensure regional peace, we are trying to globally address cross-border crime. This issue is of concern to us and to our neighbours across the region. We hope that we, together with our brothers in Tunisia, can address this issue efficiently and professionally.
Daleen Hassan, euronews: "Concerning relations with the European Union, how are they going and what is the current level of cooperation between Libya and the EU?"
Ali Zeidan, Libyan Prime Minister: "We started to cooperate with the EU at the beginning of the revolution, and there has been diplomatic cooperation at the headquarters of the EU in Strasbourg. Europe has helped us a lot during the different stages of the revolution. We have a strong connection that we are seeking to develop, especially in matters of security control, the issue of illegal immigration and adjusting the costs of security measures, and the security of the southern borders. And, for sure, they are helping us to train and rehabilitate the army and police forces."
Daleen Hassan, euronews: "What are your own ongoing concerns?"
Ali Zeidan, Libyan Prime Minister: "What worries me is that people are ignorant of many things and behave in a hostile manner simply because of their ignorance. What also worries me in this regard is that, I don't always have the necessary elements at my disposal to inform people and make them understand.
"This matter hurts me personally, as I understand people's anxiety and why they cast blame, but at the same time people might not always know the whole truth."