World leaders at Mandela memorial service
Comments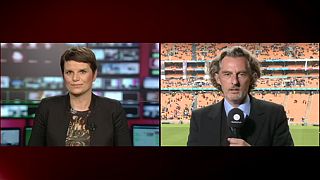 Tuesday's memorial service for Nelson Mandela was attended not just by the people of South Africa. Dozens of world leaders also made the journey to Johannesburg.
euronews special correspondent in South Africa, Francois Chignac, spoke to Laurence Alexandrowicz from Soccer City stadium in Johannesburg.
Laurence Alexandrowicz, euronews: President Barack Obama has hailed Nelson Mandela as "a giant of history" but he also criticized those leaders who are paying their respects to Mandela, as a man of peace, but they themselves are oppressing their own people. Could the spirit of Mandela be felt by the heads of state today?
Francois Chignac: It could, and it continues to be felt. The Secretary General of the UN, Ban Ki Moon said in his speech, that even in death Nelson Mandela has managed to unite politicians. More than 90 world leaders are here, we've seen Barack Obama shaking hands with Raul Castro, we saw Obama alongside George Walker Bush, we saw Francois Hollande side by side with Nicolas Sarkozy, Japanese are next to Chinese, Iranians are standing with Arabs and Turks … all these political leaders are here to pay their final tribute to Nelson Mandela.
euronews: Have there been any notable events ? We heard booing from the crowds at some points.
Francois Chignac: The current South African President is Jacob Zuma, he was elected in 2009, and when he began to speak boos rang throughout the stadium. He couldn't actually make himself heard initially, and this is a worrying portent for the future of South Africa as there are elections next year. The ANC , Jacob Zuma's party, is being criticized here and his entire speech continued to be punctuated with boos here at Soccer City.
Euronews: Francois thank you. It's worth pointing out this is all happening at the same time as the Nobel Peace Prize ceremony in Oslo …. 20 years after the prize was awarded jointly to Nelson Mandela and F W de Klerk.