Down but not out : Berlusconi plots his revenge
Comments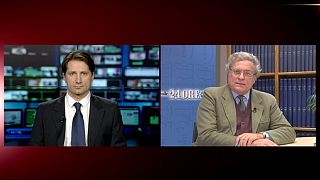 He may be 77 years old, in disgrace and out of power, and harried on all sides by no less than four legal cases which could eventually see him to go to jail, but Silvio Berlusconi remains as irrepressible as ever and seemingly convinced he is yet to bow out of Italy's political theatre.
Where does he go from here? He has reformed his Forza Italia party after his centre-right PdL split, and is free as a bird to cause mayhem should he choose.
"It would be good if this government can keep trying to solve the country's problems, that's what we need. I hope we don't have elections, we could face the same problem after," said one man.
"I expect a time of uncertainty, surely. But I don't think this will be the end of the world," said an elderly woman.
Berlusconi is confident his two-decades dominance of Italian politics leaves a vacuum behind only he can fill. With a none-too-united opposition his task seems simple, but his standing in his own party has been diminished, too.
To discuss whether or not this really is the end of an era we talked to a columnist with Italy's leading financial daily, Il Sole 24 ore, Stefano Fólli, from Rome.
Euronews: "In your editorial on today's front page of Sole 24 ore you wrote that the Berlusconi era should have been ended by politics or an election and not by a court verdict. Does this mean that anybody should be celebrating "victory"?
Folli: "It is not a victory, for anybody. It's the end of a misunderstanding. Berlusconi in the last years was a great misunderstanding because of his conflicts of interests and his trials. The fact he has not been beaten politically, in an election, is not good for democracy."
Euronews: "What kind of role can Silvio Berlusconi still play in politics?
Folli: "I believe that out of parliament Berlusconi cannot play a lead role. Certainly he can make some noise and lead his many supporters, but he cannot suddenly become an "anti-system" force stronger than the opposition."
Euronews: "Is Letta's government stabilty currently at risk? Do you see a potential early election?"
Folli: "No, I don't see the risk of an early election. I see the need for the government to take advantage of its current majority. I mean to use this cohesion to provide an answer to the country's problems, and realize the important reforms, often promised and always delayed."
Euronews: "What are the consequences of the expulsion of Berlusconi from the Senate for Italy's international image?"
Folli: "Berlusconi has been far too controversial a leader at an international level, so I believe that there is a general preference to do business with anyone but Berlusconi."