US: Battle over food stamps spoils Thanksgiving for the poor
Comments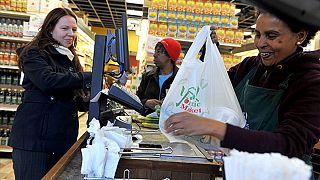 As Americans from coast to coast are getting ready to celebrate Thanksgiving with a traditionally huge turkey meal, millions of families will have considerably less food on the table this year. That's because of cuts to SNAP (Supplemental Nutrition Assistance Program), the US food stamp program for the poor.
In 2009, SNAP was boosted to help families during the recession, but Republicans in Congress let extra stimulus money of about $5 billion expire, and since November 1st people receive fewer funds.
For many families, coping with these cuts will be tough, particularly during the holidays.
Fortunately, this is the time of the year that food banks and charities are aided by generous Americans. But experts say they cannot fully meet the need in their communities if SNAP is cut further.
On Tuesday, the White House released a new report highlighting the importance of the food stamps program and advocating President Barack Obama's budget proposal that would largely protect it. "SNAP, which has been authorized in bipartisan fashion in the Farm Bill for decades, has been one of our nation's strongest defenses against hunger and poverty while also benefitting farm and rural economies."
According to official data, SNAP kept nearly 5 million people out of poverty in 2012, including 2.2 million children. More than 90 percent of SNAP funds go to the 14.3 percent of the US population that live below the poverty line.
Ironically, poverty rates are considerably higher in states like Mississippi, Alabama and Arkansas which are overwhelmingly represented in Congress by Republicans.
Nevertheless, the Republican majority in the House of Representatives rejects Obama's proposal and is pushing its own version of the farm bill, the five-year piece of legislation that funds nutrition and agriculture provisions. Their controversial proposal would slash funding for the food stamps program by nearly $40 billion and boot 2.8 million people off the program next year.
That includes 170,000 veterans, another Republican-leaning group, who would be removed through a provision in the bill that would eliminate food stamps eligibility for non-elderly jobless adults who can't find work or an opening in a job training program.
Veterans returning home from service have more trouble finding work than other citizens, and rely more heavily on the food stamp program. The unemployment rate for recent veterans – those who have served in the past decade – is about 10 percent, almost 3 points above the national unemployment rate.
While the Democrat-led Senate will never approve the $40 billion in further cuts to the food stamps program that House Republicans want, cuts seem inevitable. The two chambers are in the middle of negotiating a final version of the farm bill with reductions somewhere in between the $4 billion level the Senate Democrats wants and the level the House Republicans want.
In the meantime, millions of US families will have to exercise some belt-tightening over the holidays.