Thanksgiving travel threatened by deadly storm in eastern US
Comments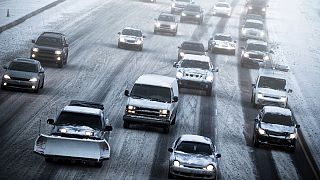 Millions of Americans in the northeast who are planning to travel for the Thanksgiving holiday this Thursday may not only encounter busy airports and congested highways, but also a deadly storm system bringing heavy winds, rain, snow and sleet to some of the most populous metro areas in the US.
With the storm gathering pace, the 43 million people who are expected to travel 50 miles or more for Thanksgiving were warned to avoid driving during the worst conditions slated for Tuesday and Wednesday.
Those days fall ahead of the Thursday Thanksgiving holiday and are among the busiest days of the year for air travel.
A powerful storm that left at least 21 people dead over the weekend and has already created a mess for air travelers in the western US, especially in Texas, is now threatening to do the same at some of the busiest – and most delay-prone – US airports along the eastern seaboard, meteorologists said Monday.
It forced American Airlines to cancel nearly 1,000 flights at its Dallas/Fort Worth hub Sunday and Monday. AA hopes to resume normal operations there by Monday afternoon, but that could be just in time for new problems to sprout in the East.
The storm will bring heavy snow to interior sections of the Mid-Atlantic and Northeast, but the biggest problems for Thanksgiving fliers will likely be the windy, cloudy and rainy conditions at some the busiest US airports: Logan in Boston, JFK and La Guardia in New York, Newark International, Philadelphia International, Thurgood Marshall in Baltimore and Dulles and Reagan National in Washington.
These airports usually struggle to maintain normal schedules even in modest weather conditions. A full-fledged coastal storm could bring major delays and hundreds of cancellations just as a crush of Thanksgiving fliers head to the airports.
The storm started Thursday in the Southwest, where it killed three people in California. It then moved on to New Mexico and Texas, both of which were placed under National Weather Service winter storm warnings until Monday.
Up to 11,000 people were without power in parts of Texas over the weekend, utility suppliers said.
By that time it was gathering pace and moving on from New Mexico and plotting a path through eastern Texas, southeastern Oklahoma and Arkansas.
Three of the 13 people killed by the storm died in a pileup of a dozen vehicles in the Texas Panhandle, and four deaths occurred in Oklahoma. Another man was killed in flooding in Arizona.