Bitcoin 'Assassination Market' targets include Bernanke and Obama
Comments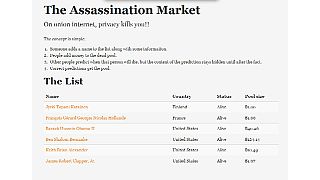 Bitcoin has already been at the centre of "drug dealing":and money laundering controversies but now it has been implicated in a somewhat darker business.
Forbes magazine has reported on a rather unique crowd-funding website called Assassination Market that lets anonymous contributors offer Bitcoins towards a bounty on the head of government officials.
The site's creator, who goes by the pseudonym Kuwabatake Sanjuro, told Forbes that if a user can correctly predict the date of an assassination, therefore proving they are responsible for the act, they will receive the gathered funds.
Many of the supporters of Bitcoin are opposed to conventional banking systems, which is perhaps why Ben Bernanke, chairman of the Federal Reserve, is the Assassination Market's most wanted man.
The so-called 'dead pool' bounty for Bernanke currently stands at 124.14 Bitcoins; at present rates this would make his hypothetical killer around $71,000 richer. Second on the list, with a pool of 40 Bitcoins (around $25,000) is US President Barack Obama.
In an email to Forbes, Sanjuro stated that his goal is to facilitate enough assassinations that no one would dare to hold office. He claims that this "will change the world for the better". He added: "I also believe that as soon as a few politicians get offed and they realise they've lost the war on privacy, the killings can stop and we can transition to a phase of peace, privacy and laissez-faire."
Like other "dark web" sites, Assassination Market runs on the anonymity network Tor which is designed to protect the identity of users and owners.
Bitcoin is becoming an increasingly popular form of digital currency; just last month, the world's first ATM for Bitcoins opened in Canada.
Source: Forbes