Watch: Looting in Venezuela after government launches attack on 'bourgeois parasites'
Comments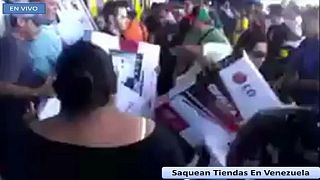 Venezuela's president says there will be no let-up in the "economic offensive" against the country's "bourgeois parasites".
The government has sent in soldiers to occupy a chain of shops accused of selling electronic goods at inflated prices.
It saw hundreds of people descend on electrical store Daka after officials told them to sell goods at lower prices.
Looting followed at a Daka store in Valencia and has since spread to five other cities: Los Teques, Valle de la Pascua, Ciudad Ojeda, Valencia and Puerto de la Cruz.
Meanwhile five managers from the Daka, JVG and Krash stores have been arrested on suspicion of hiking prices.
President Nicolas Maduro, addressing the nation, said there would be "zero tolerance with speculators".
He is now this week expected to be given powers by Congress that will allow him to set limits on businesses' profit-margins.
Many shop owners justify this year's spiralling prices – annual inflation has hit 54 percent – by saying they are forced to buy dollars for imports on an illegal black market at nearly 10 times the official rate.
Former bus-driver Maduro, 50, is calculating that his attacks on private businessmen will appeal to his working-class support base. Municipal elections take place in the country in December.
Critics say the government has only itself to blame for the problems due to excessive state controls, persecution of the private sector, corruption, failed nationalisations and lack of foreign currency for importers.
Opposition leader Henrique Capriles said: "It's clearer and clearer every day that Maduro is a failed puppet of the Cuban government."
An increasing number of Venezuelans of all political persuasions are fed up with the continued polarisation of their nation after 14 years of aggressive confrontations under Chavez, who died of cancer in March.
"I'm past caring if we have a socialist, capitalist or Martian in power. He can be a bus-driver or a bourgeois. I just want competence and calm," said Andreina Gonzalez, a 41-year-old housewife, leaving a Roman Catholic church in Caracas where prayers were said for the state of the nation on Sunday morning.
"This is one of the most beautiful and resource-rich countries on earth. Why are we all messing it up?"