New £47.3 billion airport planned for London's Thames River
Comments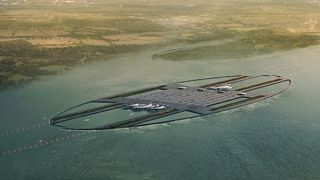 Plans have been unveiled for a £47.3-billion airport – at the mouth of London's River Thames.
The six-runway airport – named Boris Island after its main proponent London Mayor Johnson – could be built within seven years.
If it goes ahead it is likely to mean the closure of Heathrow, London's hub airport west of the capital.
Work is currently underway looking at how to expand airport capacity in south-east England, the UK's economic engine room.
The airport is planned for an island in the estuary of the River Thames, east of London.
Testrad, the group behind the plans, quoted figures which claim demand for London's airports is forecast to increase from 127 million passengers-a-year in 2010 to 300 million by 2031.
The Mayor of London, Boris Johnson, said: "This is further welcome argument in favour of the feasibility of having a new hub airport in the Thames estuary. With so many options available for a multi-runway hub airport in a new location, it would be folly for the Airports Commission to give countenance to the prospect of expanding Heathrow, the most noise-polluting airport in Europe."
(picture copyright: Testrad)