Poland: Far-right rioters leave trail of destruction in Warsaw
Comments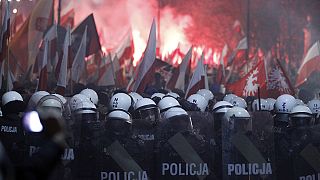 Polish riot police used rubber bullets on Monday to break up groups of masked far-right youths who threw firecrackers and set fire to parked cars during a nationalist march through the centre of the capital.
The march is an annual event to commemorate Poland's national Independence Day, and for the third year in a row it broke down into running battles in the middle of Warsaw between rioters and police.
Several thousand right-wing protesters began their march peacefully – watched by their own stewards in orange vests and with a police helicopter circling above.
The violence started when a few dozen youths, their faces covered by balaclavas and football scarves, broke off from the procession into a side street and started attacking a building where left-wing radicals occupied a squat.
Riot police moved in, and came under attack from youths throwing firecrackers and stones. As the rioters dispersed, several cars were set on fire. The violence underscores the faultlines in Polish society.
Many Poles have grown wealthier in the past few years, but a minority feel alienated and believe traditional values on marriage, abortion and the church have been swept aside. "I believe that Polishness is under threat," said one marcher, Grzegorz, who said he was 30. "The Polish government is incompetent and a threat to Polishness."
Before the violence broke out, marchers chanted: "God, honour, fatherland!" and waved the red-and-white national flag. Another protester, who gave his name as Mateusz, said he had come to "manifest my patriotism".
Police spokesman Mariusz Sokolowski said officers had used rubber bullets, truncheons and pepper spray against the rioters. Polish media reported that two police officers had been injured. Several people were arrested.
Riot police formed a cordon around the Russian embassy, as part of the crowd headed. Many Polish nationalists dislike Russia, their country's former colonial ruler.
The principal target of the rioters appeared to be any manifestation of left-wing, liberal views. After the crowd had moved on from the squat, leaving it littered with burned debris and broken glass, one of the squatters accused the police of failing to hold back the far-right protesters. "You have unleashed fascist dogs on us," he said.
Later, the rioters moved on to Zbawiciela Square, one of the most bohemian areas of central Warsaw, where students usually hang out in trendy pavement cafes. An arch across the middle of the square, decorated in rainbow colours with artificial flowers, had become a symbol of tolerance and diversity. On Monday evening, after the rioters had passed through and set it on fire, all that was left of the arch was a charred, steel skeleton.
REUTERS