Greece: as economic crisis bites, funding for help suffers
Comments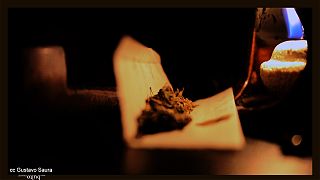 Most commonly used drugs
The most common drugs in Greece are marijuana, respiratory drugs, ecstasy pills, magic mushrooms and amphetamines.
Cocaine use is also fairly widespread although, as one of the more expensive drugs, it is considered a narcotic available only to the rich.
Drug users
According to a research conducted by the Institute of University Research on Mental Health, around 670,000 people aged between 12 and 64 – in a country with a total population of almost 11 million – have used drugs at least once.
More than half of users – the majority men – said they had taken illegal drugs at least three times in their lives.
Approximately one in six students admitted using drugs at least once with, again, the majority being male.
Around 22% of 18-year-old students said they have used drugs, while for 19-year-olds the figure leaps to over 40%.
Generations affected
Across all age groups, it is younger generations who are the most affected by drug use in Greek society. Over the last three decades, drugs have found their way into nightclubs, coffee shops and even schools.
That is why, from the early 1980s until today, the percentage of students aged 15-19 that have used drugs, has more than doubled, from 6% in 1984 to 15,3% in 2011.
Prevention
In total, 71 drug prevention centres are operating under the surveillance of the Organization Against Drugs right now in Greece.
The effect of the economic crisis is hugely negative in terms of the funding of these centres. However, at the same time, the number of drug users nationwide is increasing.
More than four fifths of the people seeking help to stop drugs used heroine or other opium-based drugs.
No real strategy or plan against drugs has ever been executed in Greece.
Various efforts to reduce drug use and prevent youngsters from getting addicted have surfaced, but their effectiveness has been questioned.
Police
In 2011, the Greek police charged 12,805 people for drug use, cultivation or dealing. The majority of those convicted of consuming drugs were sentenced to less than a year in jail.
Dealing drugs results in higher penalties, but few defendants end up getting convicted.
Sources