Greece video 'shows moment' Golden Dawn members shot dead
Comments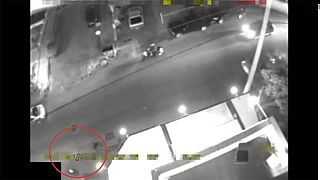 Greek police have released a video they say is from the scene of last week's fatal shooting of two men outside the far-right Golden Dawn party's offices in an Athens suburb.
Manolis Kapelonis, 22, and Giorgos Fountoulis, 27, were gunned down at close range at the offices at Neo Iraklio. A third man was seriously injured after being hit in the chest and stomach.
It was described as a drive-by shooting carried out by two men on a motorbike. However in the video, the men appear to be on foot at the moment the shots are fired.
Filmed from high above the street, the scene unfolds in under ten seconds during the evening rush hour last Friday night, November 1.
As buses, cars, motorbikes and pedestrians go past, two men appear on the bottom of the screen, on the same side of the road as the Golden Dawn office.
No guns appear to be visible and the shooting itself does not appear to clearly identifiable to the naked eye.
However the men quickly run away, from left to right on the screen. One of them appears to have a limp.
At no stage are any of the three victims visible, as it seems they are obscured by the building.
After the shooting, police and witnesses said the attacker, who had an accomplice, got off a motorbike and shot the victims. Twelve bullets were found at the crime scene from a 9 mm gun.
No one has claimed responsibility for the attack, which was widely condemned by politicians from all sides.
Greece's anti-terrorism force is investigating whether the shooting was retaliation for a fatal stabbing of an anti-fascist musician by a Golden Dawn supporter in September.
Pavlos Fissas' death sparked protests across Greece and a government crackdown on Golden Dawn, which is widely considered neo-Nazi and is blamed for attacks against migrants.
Anyone with information about the content of the video can contact the Greek phone numbers 1014 and 10414 or e-mail Greek counter-terrorist police at ctu@hellenicpolice.gr .
.