Message in a banknote for angry Spaniards
Comments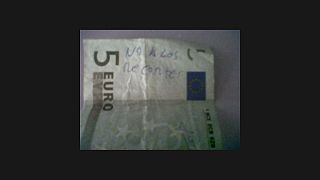 Fed up Spaniards are using a new and creative way to express their anger against bankers and politicians who they hold responsible for the current economic crisis: they are defacing euro banknotes with criticism.
Such small acts of graffiti are finding their way through pockets and cash registers as well as across social networks. Despite 'putting their mouths where their money is' the protesters can still use the money as legal tender.
One user wonders if his message written on a five-euro banknote will reach the Banco Santander's President, Emilio Botin.
Mensaje al Sr Botin en un billete de 5 Euros ¿ llegara hasta el a traves de Twiter ? PROBEMOS. pic.twitter.com/B0ADlpAN

— Mariano9605 (@mariano9605) March 4, 2012
"Politicians and bankers are a disgrace for the Nation" says another five-euro bill.
Mirad lo que me he encontrado escrito en un billete de 5 € pic.twitter.com/2RGCPGZJTB

— HUGO (@Humilcor_Boss) August 21, 2013
Another message bears a request that someone "go back to the past and ensure [Spanish Prime Minister Mariano] Rajoy's parents never meet each other".
Estoy va para Rajoy jaja y mira lo q me encontrado en el billete escrito jaja pic.twitter.com/WvxlJjsurb

— Raul De La Paz Lama (@RaulDeLaPazLama) June 1, 2013
This Twitter user promises not to leave any banknote without a message.
The 50-euro bill reads: "As I know that certainly this banknote will end in your hands I take the occasion to leave you a private message" which is, invariably, an insulting one.
A partir de ahora no dejaré un billete sin nada escrito. pic.twitter.com/K6jWnhwycj

— El tito Jonan. (@jonanperrea) March 1, 2013
This other Twitter user found this message written on a 10€ banknote that he was given as change in a supermarket
"This banknote is black money, please don't make it circulate".
He hecho unas compras y me han devuelto un billete de 10€ con esto escrito: pic.twitter.com/MYTQaM6kuU

— Dirge For November (@ChemikCoka) September 10, 2013
Main picture says: "No to the budget cuts" by @albita_ulleen.