Man in full Nazi uniform upsets UK shoppers
Comments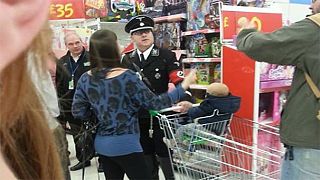 A man in a full Nazi uniform was thrown out of a UK supermarket after upsetting shoppers.
Paul Dutton was pictured walking in the aisles of Asda in Cambridge in the full black uniform of Hitler's bodyguards, complete with red armband and swastika.
He later took to Twitter to say: "I am a loyal Asda customer, they know I suffer with mental health [sic] the black armband I wear helps me control my mental state.
"I told the asda manager I'm writing a story online about my illness and wanted to hand out business cards for people to read."
A spokeswoman for Asda told the BBC: "We had a number of customer complaints so we asked him to leave the store."