Romano Prodi: EU 'sleepwalking' through crisis
Comments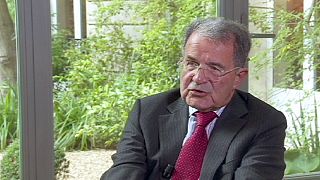 Romano Prodi, former president of the European Commission and ex Italian prime minister, recently attended a conference on new challenges faced by the European Union. Euronews met him to discuss his views on a stronger alliance with eastern European countries, as well as other key issues.
Giovanni Magi, euronews
"To be more effective, the European Union must progress towards political union. Is this a realistic path, in your opinion?"
Romano Prodi, former President of the European Commission
"In the long term, it is necessary for our survival. In the short term, political unity is difficult. Tensions were heightened, then came the 'euro or no euro' debate…
"Europe is broadly divided at the moment. It is nothing new. In the past we even had the so-called 'empty chair' of France, a founding country of Europe, so I'm not pessimistic. However, a lot of patience and understanding is needed. No European country – not even Germany – is large enough to compete alone on the world stage. Solidarity between European countries is imperative."
euronews
"In many countries we are witnessing a resurgence of Euro-scepticism – towards the EU, but also towards the single currency. Is it purely the result of the recent economic crisis, or is there more?"
Prodi
"It is a consequence that the recent economic crisis has highlighted. When we built the euro, we put specific defense mechanisms in place. It was clear throughout our discussions: we will do this, then this, then this. And then came fear across Europe: fear of globalisation; fear of the Chinese; fear – even within Europe – of the Polish plumber. This weakened us, and the crisis has highlighted these weaknesses."
euronews
"Has the economic crisis been appropriately-managed, in your opinion?"
Prodi
"Appropriate… If sleeping counts as appropriate, then yes. Because, except for the European Central Bank, which worked well, we slept. We became lost in endless technical debates, without addressing the real problem of Europe's soul, without addressing the real problem of what we are doing in the world…
"So, the European policy wasn't enough. Even with regards to the technical management of the crisis. For example, when the crisis – which was caused by the United States – happened, Obama lent us $800 billion (€588.5 billion), China immediately put in $585 billion (€430.3 billion), and Europe ran for years on a few tens of billions of euro. In short, it really highlighted all of the political difficulties that must be overcome and that will only be overcome when we feel the pressure of globalisation breathing down our necks. Only then will we finally understand that we have been marginalised."
euronews
"How will we best re-establish the confidence of citizens in the European Union, to make the Union more popular? Are there changes to be made?"
Prodi
"First of all, to have a more popular Union, we need to have at least a sense of solidarity. I am not talking about charity, but rather interested, intelligent solidarity.
"I believe that, for example, the policy of austerity, imposed as part of the recent short-term vision, has not helped Germany at all. I have done every conceivable calculation, and found that austerity merely slowed Germany's growth at a time when it could have been extremely strong.
"But we must also understand that, with 28 countries in the mix, it is unrealistic to expect unanimity in decision-making. The idea is contradictory and inconsistent. It is clear that in order to restore the confidence of European citizens, we must promote the message that you can decide, you must not let small differences hinder the resolution of any problem that occurs.
"Finally, it is clear that the established system of government in Europe is not capable of making Europe great."
euronews
"Thank you very much, President Prodi."
Prodi
"Thank you."