South Korea: 'highest suicide rate' despite 11 percent drop
Comments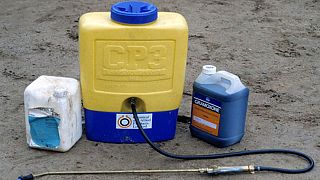 The suicide rate in South Korea decreased by 11 percent last year, a drop believed to be linked to a ban on fatal pesticides two years ago.
South Korea has had the highest suicide rate in the developed world for the past nine years, with pesticides being the preferred method for over a quarter of people who took their own lives between 2006 and 2010.
In 2011, the government decided to restrict production of Gramoxone, a herbicide linked to suicides, and outlawed its sale and storage in 2012.
"The number of suicides by poisoning including Gramoxone fell by 477, which accounts for about 27 percent of the total decrease in the number of people committing suicide," said Lee Jae-won, an official at Statistics Korea.
Despite the marked improvement in the suicide rate, more than 14,000 South Koreans killed themselves last year. Elderly people living in rural areas are considered to be particularly high risk.
South korea has been been striving to make itself a world competitor in terms of industry and production since the 1950s. This has resulted in it becoming one of the richest countries in the world and Asia's fourth largest economy.
Success linked to suicide?
In such an economically successful country, why is there such a high suicide rate? Kim Hyun-chung, a psychiatrist at the Korean Association for Suicide Prevention, believes existing social stigmas surrounding mental illness and a difficulty admitting any inability to cope, contribute majorly to the suicide figures. He credits the ban on pesticides for the decrease in the suicide rate, but does not think it provides the whole solution:
"The ban on toxic pesticides obviously led to the decline in the suicide rate because it is the easiest means of suicide for elderly people in rural towns," he said. "But we still have bridges and charcoal briquettes."
Jang Chong-yoon, who almost committed suicide 12 years ago, agrees with the pesticide ban, but thinks more could be done to address the mental well-being of South Koreans:
"Old and young people have their own pain from either quick economic development or unemployment," he said, adding: "I hope the government will care more about people's health."
While the 2012 figures offer some hope, South Korea still has a long way to go. According to the latest comparisons by the Organisation for Economic Co-operation and Development, South Korea has by far the most suicidal society, followed by Hungary, Russia and Japan.
Image credit: IITA Image Library, Flickr