Hackers gather in Brussels to shed light on government surveillance
Comments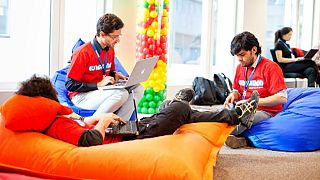 A flock of 28 hackers, coders and web developers representing 13 different nationalities gathered in Brussels for the third edition of the EU Hackathon on Tuesday 24 and Wednesday 25, September. Their target? Government surveillance. Their motto? "Hack for your rights."
Past events have focused on issues like internet access in the wake of the Arab Spring, or on child safety online. This year's theme, chosen even before the PRISM scandal was exposed by whistleblower Edward Snowden, was government surveillance. Using their coding skills and datasets, such as corporate transparency reports, the hackers had to creatively explore ways to "shed light on the state of government surveillance in their country and exercise their democratic rights to due process and greater transparency."
A 'hackathon' gets its name from the intensive work the coders put into their project, with traditionally only 24 hours to complete the tasks the contenders get very little to no sleep. This year, according to a statement, hackers relentlessly pounded their keyboards for "30 hours of intense coding with only a 4-hour break".
The event is organised in conjunction with the European Parliament, policy makers, internet giants Facebook and Google as well as civil rights groups – such as Electronic Frontier Foundation and European Digital Rights. This year's event took place in Google's Brussels offices.
"Google's been at the forefront of calls for transparency about government surveillance for many years. Every six months, we publish detailed statistics on the number of requests we get from governments to access user data – and we've done that since 2009" a Google spokersperson told euronews in an email. "We support the EU hackathon because data visualisation competitions are a great way of making statistics more meaningful, and of raising awareness of an issue that has serious implications for democratic societies."
Looking for sense in the data
For the policy makers present, the need for visually powerful, clear data ranks highly as well. "[Policy makers] are flooded with information" says Francesca Bosco, a project officer at the Emerging Crimes Unit of the United Nations Interregional Crime and Justice Research Institute (UNICRI). Visualisations are very helpful, especially for hot topics (like government surveillance) because "policy makers have to understand immediately what the issue is" in fields that may not be their expertise, Bosco told euronews in a phone interview.
For Bosco, responsible for cybercrime prevention projects at UNICRI, events like this hackathon are a place to meet "young minds" for a breath of "fresh air, inspiration, learning and networking."
Several digital civil rights advocacy groups were present, including the Electronic Frontier Foundatio. "A large chunk of our supporter base is made of coders, software engineers and security consultants – the type of people who attend hackathons and hacker gatherings -so it makes sense for us to also participate" Dave Maass, a EFF spokesperson told euronews. The organisation was represented by Trevor Timm, an EFF activist, selected as a special guest speaker at the hackathon.
The fact that Facebook and Google, two corporations the EFF has previously criticized, were sponsors of the event was not an impediment for the EFF. A spokesperson for the group said it was actually to the contrary: "In advocacy, there are very rarely two distinct sides…We may slam Google and Facebook on one set of issues, but support them whole-heartedly in other endeavours. Despite our often brutal criticism of some of the large service providers, a great number of their employees still support our work. In fact, Facebook sponsored our recent Pioneer Awards ceremony."
5.000 euros for the winning project
After the coding session, the participants moved to the European Parliament for the award ceremony hosted by MEP Petru Luhan. The winners of the First Prize are Team Frontwise, from the Netherlands, with the BIGSIS – Privacy Ranking app. They received a financial reward of 5,000€ and an award handed over by European Commission Vice-President Viviane Reding.
BIGSIS is a Chrome plugin which "visualizes your exposure to webservices while you're browsing the internet. It displays with which governments this data can be shared, and if you need to be worried about it regarding the government reputation on previous requests and human rights [records]."
"Install it in your browser to see how your favorite websites perform and see for yourself which data is shared to governments around the world," the team of coders say.
Discover the other visualisations.
Watch a presentation of the winning 2013 EU Hackathon project