Ukraine trade and political pressure from Russia and EU 'complicated'
Comments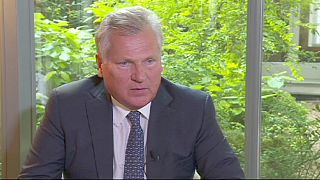 A potential springboard for future development of relations between Ukraine and the European Union is approaching. At the end of November, at a summit in Vilnius, Lithuania, Ukraine hopes to sign an Association Agreement with the EU.
This week, the Ukrainian government approved going ahead with this. And yet obstacles still stand in Kiev's way. Although trade matters make up a significant part of the document, Brussels is demanding improvements in the state of law in Ukraine.
The EU wants the imprisonment of former prime minister Yulia Timoshenko to be reconsidered. It suspects her 2011 sentencing on a conviction of abuse of power was political persecution.
To shed light on the prospects of the former-Soviet republic, we interviewed a member of the European Parliament body following Ukraine questions closely: former President of Poland, Aleksander Kwasniewski.
Giovanni Magi, euronews: "Does Ukraine fulfil the three conditions for its European Union Association Agreement, concerning selective justice, electoral reform and reform of the judiciary?"
Aleksander Kwasniewski, Former President of Poland: "I hope that we still have a chance that Ukraine will fulfil all three of these conditions before the Vilnius summit, to be held at the end of November. In some of these I see real progress, especially on judiciary reforms or electoral law. We have some problems with selective justice, especially the case of Mrs Tymoshenko; that is very complicated from several points of view: legal, political and psychological."
euronews: "If Mrs Tymoshenko is not released before the Vilnius summit, will the Association Treaty be signed, or not?"
Kwasniewski: "I think it's too early to think about such a scenario. This question is especially strong to me because I am inside the process, a member of the special mission of the European Parliament, and I think we have to use every argument we have, all our time and all kind of efforts to find a solution."
euronews: "What reactions should we expect from Russia, after Ukraine's association with the European Union?"
Kwasniewski: "I think the time for Ukraine seems complicated because the pressure from Russia is unbelievable. It is unbelievable. It is strong – and they use all kinds of methods: a blockade of Ukrainian trade, pressures on certain Ukrainian oligarchs; the media have [disseminated] quite some propaganda in favour of the Customs Union [with Russia]. But my prediction is that if we sign the Association Agreement in Vilnius, then Russia will change its own politics, because such a policy of pressure is wrong, the results totally counterproductive. Today, after the Russian blockade the number of supporters of European Union has increased, even among Russian-speaking people [of Ukraine]."
euronews: "Recently, you said that more integration and more enlargement present opportunities for Europe. Do you think that speaking about enlargement is realistic now, at this moment?"
Kwasniewski: "Of course, it's not very popular to speak about enlargement now, but it's not only realistic, it is something that we need. Europe cannot say to other European nations such as Ukraine, Serbia or others that [even] if they fulfil all our standards they cannot be part of our community. Of course, we aren't talking about membership tomorrow or the eurozone next week; we don't speak about [vast sums of development assistance] money next month: we speak about the necessity of beginning a process."