Russia's political opposition pumping up anti-Putin volume
Comments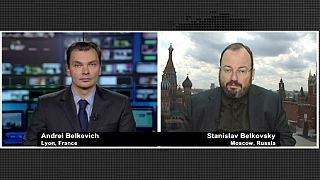 Does political opposition in Russia have a new leader with realistic chances of challenging the status quo? Alexei Navalny's campaign slogan in his bid to become mayor of the unquestioned power wheel of his country was "Change Russia, Start with Moscow". Numerous analysts consider that his strong – though not ultimately victorious – showing in the electoral race increases the political credibility of this dissident blogger and anti-Putin, anti-corruption protest organiser.
Nobody did it better. Navalny in 2011 and '12 made unprecedented numbers of Russians believe they could make their opposition voices count. After legislative elections they insisted were manipulated to keep Vladimir Putin and his camp at the summit of power, they were still bawling after he had been re-instated as President.
The Kremlin's de facto king put his foot down; 'the empire strikes back'. Dozens of opposition activists were formally charged; the authorities accused them of participating in acts of massive disorder in May 2012. Their trials opened one year later.
All of them still behind bars, die-hard protesters felt it was a good day to take to the streets again; Sunday's first direct poll to elect the mayor of Moscow proved whose political grasp was still the strongest – their man lost.
But it also was a measure of the growing groundswell against established power. Putin's clan has held this under wraps since 1999. First appointed and now elected mayor Sergei Sobyanin is part of it.
Nearly half of all Russians are still confidant in their mighty president, but according to a recent survey only 20 percent of them would happily see Putin serve a fourth term at the top.
Unless there's a sufficiently organised opposition, however, it seems the country will continue being governed his way.