Divisions over Syria split world leaders at G20 summit
Comments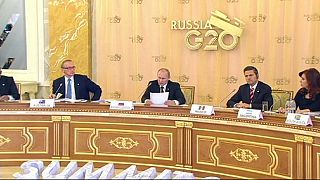 The deep divisions on how best to deal with the Syrian crisis are on clear display at the G20 summit taking place in Russia.
US President Barack Obama has been attempting to drum up support for a military intervention against Damascus, however he remains in relative isolation.
Both China and host country Russia have warned against any action without UN backing. The European Union, meanwhile, has said "there is no military solution to the conflict."
The main aim of the summit, which is the discussion of global financial and economic issues, looks likely to take a backstage role in the two days of meetings among the G20 leaders.
Our corrrespondent James Franey at the G20 gathering in St Petersburg believes there is little chance of a consensus on Syria emerging.
"It's going to be a very lonely place for US President Barack Obama in the Palace behind me as he holds talks on the issue with other G20 leaders. The reason being that even traditional allies, the European Union, the European Council President, Herman Van Rompuy, has come out and said very clearly that there is no military solution to the Syrian crisis, and that any military intervention should go through the Security Council", said Franey.
Nial O'Reilly, euronews: So concerns about Syria, division over the emerging markets… all this is, of course, undermining the core business of the summit which is to boost the world economy. What hope is there of any broad progress on all the fronts on which they are discussing?
James Franey: "Well, officials have already admitted on the sidelines of this summit that there will be an agreement on tax evasion and tax avoidance. It will endorse an early accord struck by G20 Finance Ministers in Moscow in July. The idea is two things really – an automatic exchange of information, which one OECD official described as the end of banking secrecy – and then having the OECD provides oversight so that companies can't shift profits around."
"However German Chancellor Angela Merkel has staked a lot of political capital on getting a deal on shadow banking – what's that? Basically financial institutions that lend in the same way that banks do, but operate outside the traditional banking regulations. So, the argument goes that we need to tighten up regulations on the shadow banks to avoid a repeat of the easy credit crisis of 2007/8. Now what we're hearing from EU officials is that there's likely to be little in the way of an agreement on that, all pointing towards a defeat for German Chancellor Angela Merkel."