London police officers treat carnival crowd to impromptu dance-off
Comments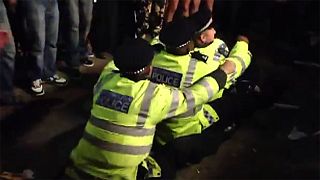 In the UK, the annual Notting Hill Carnival opened on Saturday August 25 with thousands of people gathering in North-West London to celebrate Caribbean culture.
The carnival, now in its 49th year, attracts nearly one million people over the weekend and typically includes parades, food, dance and music. But this year a special impromptu performance from three Metropolitan Police officers also brought cheers from the crowds.
Surrounded by festival revellers the three policemen put on an impressive performance, bumping and grinding for an improvised "dance-off" with their onlookers.
London newspaper the Evening Standard reported the clip had been posted by one London cop with the caption "good community relations in my opinion". According to the paper, a Met spokesperson declined to comment but said: "I don't think this is a problem if officers are getting in with the crowd".
The Met did confirm that more than 100 people were arrested on the first day of the street party, mostly for drugs offences. Another 300 people were treated for minor injuries including cuts and bruises and other alcohol-related injuries.
Credit photo and video CC By joeyyhh on YouTube