American novelist Elmore Leonard dies at 87
Comments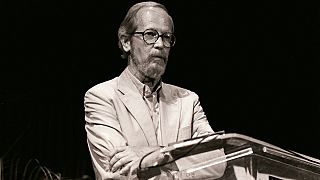 American novelist and screenwriter Elmore Leonard dies at the age of 87.
According to his official web page Elmore passed away on Tuesday morning at 7:15 AM at home surrounded by his loving family.
Elmore Leonard was born in New Orleans, Louisiana, October 11, 1925. His father worked as an executive for General Motors Corporation, and from 1927 to 1934, Leonard, his parents and older sister, Margaret, moved several times to Dallas, Oklahoma City and Memphis before finally settling in Detroit in 1934.
In the fifth grade, in 1935, Leonard showed the first sign of wanting to write fiction. He wrote a play inspired by the book, All Quiet on the Western Front, recently serialized in a Detroit newspaper; though it was the 1930 film version he recalls more vividly. He staged the play in the classroom, using desks as the barbed wire of no man's land.
Throughout grade school and high school Leonard spent much of his free time playing baseball and football, giving little thought to writing other than for schoolwork. In high school a classmate gave him his nickname, "Dutch" after the Washington Senators "knuckleballer", Emil "Dutch" Leonard.
In 1943, at the age of 17, Leonard graduated from The University of Detroit High School, and tried to join the Marines, but was rejected because of poor vision. He was subsequently drafted and assigned to the Seabees, the fighting construction battalion of the United States Navy. He served for a little more than a year and a half in the Admiralty Islands and the Philippines before returning home in January of 1946. He was assigned to a ship for six and a half months and was discharged from the Navy in June of that year.
Leonard enrolled in the University of Detroit and majored in English and Philosophy.
In 1947, Elmore Leonard's father left General Motors and bought an auto dealership in Las Cruces, New Mexico. Upon graduation, Leonard planned to work for him, but his father died of a heart attack six months after the move to New Mexico, ending any thoughts he might have had of selling automobiles.
He married Beverly Cline in 1949 and went to work for the Campbell Ewald advertising agency. He soon became an ad writer but wrote Western stories on the side, selling mostly to pulp magazines, and to men's magazines like Argosy, and one story to the Saturday Evening Post.
He chose westerns because he liked western movies and wanted to sell to Hollywood. Influenced by Ernest Hemingway, he applied Hemingway's spare style of writing to his stories. For source material, Leonard focused on the Cavalry and Apaches of Southern Arizona in the 1880s. He wrote five western novels and thirty short stories in the 1950s, two of which sold to the movies: 3:10 to Yuma and The Tall T.
In 1961, Leonard quit his job at the ad agency to write full time. The western fiction market had dried up because of a plethora of westerns on television and he wanted to write contemporary stories. But the demands of a growing family required him to take freelance advertising jobs instead.
After five years away from writing fiction, Leonard finished his first non-Western novel, The Big Bounce, buoyed by the sale of film rights to his novel Hombre. His Hollywood agent, the legendary H. N. Swanson read it and told him, "Kiddo, I'm going to make you rich."
It would be a long, but clearly marked, road to success. Leonard began selling his work to Hollywood on a regular basis. When his next novel, The Moonshine War sold, he wrote the screenplay. Screenwriting would give him the income to pursue his real goal: writing novels full time. 52 Pickup was published in 1974, the first of several novels set in his hometown, Detroit. He read The Friends of Eddie Coyle by George V. Higgins and credits Higgins with showing him how to "loosen up" his writing and "get into scenes quicker."
Leonard's books were now getting glowing reviews. In 1984, LaBrava was voted the best novel by the Mystery Writers of America. The following year, Glitz appeared on the New York Times bestseller list and Leonard was touted as "the greatest living crime writer."
He grew in stature and turned out well-received novels such as Freaky Deaky, Killshot, Maximum Bob and his "Hollywood" book, Get Shorty, which in 1995 was made into a hit movie by Barry Sonnenfeld and catapulted him to even greater fame.
Two more successful film adaptations followed: Quentin Tarantino's Jackie Brown, based on Rum Punch in 1997, and Steven Soderbergh's Out of Sight in 1998.
In 2001, The New York Times published Leonard's "Ten Rules of Writing" now famous among writers and critics featuring his axiom, "I try to leave out the parts that people tend to skip." In 2007, the rules were made into a little book called Elmore Leonard's 10 Rules of Writing, illustrated by Joe Ciardiello.
In 2005, at the age of 80, he wrote his fortieth novel, The Hot Kid, featuring his iconic marshal, Carl Webster, receiving some of the best reviews of his long career. That same year, he followed up with a 14 part serial novel for the New York Times Magazine entitled "Comfort to the Enemy." In 2006, he completed the Carl Webster saga with Up in Honey's Room. He also went full circle, as the book was set in the Detroit of his youth.
That same year, he received the prestigious Cartier's Diamond Dagger Award in England and The Raymond Chandler Award at the Noir in Festival in Courmayeur, Italy.
More awards followed: The F. Scott Fitzgerald award in 2008; the PENUSA Lifetime Achievement Award in 2009.
Still a master of his craft, Elmore received some of the best reviews of his career for his 43rd novel, Road Dogs (2009), – a sequel of sorts to Out of Sight. Stephen King wrote in the New York Times:
"The dialogue crackles; the supporting characters are crisply drawn; and the story achieves almost instant escape velocity."
In 2008, Elmore's son, Peter Leonard, published his first novel, Quiver, and father and son began doing bookstore appearances and book festivals together. It has been a satisfying experience for Elmore to share the stage with his son. He's happy that writing has turned into a family business.
In late 2010, Djibouti was published; a fun romp through the world of Somali pirates and home grown Al Qaeda terrorists, seen through the eyes of a documentary filmmaker.
Today, inspired by Justified, based on his novella, Fire in the Hole (2000), Elmore wrote his 45th novel, Raylan. Parts of this novel have been incorporated into the second and third season of Justified. "I can pick up Raylan's story anywhere," Elmore said. It's like visiting with an old friend."
Elmore Leonard lives in Bloomfield Village, Michigan. He has five children, twelve grandchildren and five great grandchildren.
The biography is by official website: elmoreleonard.com