UK: Drop in top A-levels but university admissions peak
Comments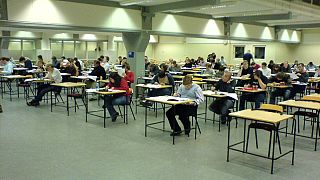 The proportion of A-level candidates achieving at least a A grade has dropped for the second year in a row after rising steadily for 20 years, figures released on Thursday show.
As around 300,000 anxious teenagers across England Wales and Northern Ireland found out their results on Thursday morning, the Joint Council for Qualifications (JCQ) said 26.3 percent of entries scored an A or A* this year.
The ratio is down by from 26.6 percent in last year and 27 percent in 2011 following a clampdown on grade inflation.
The latest drop comes as universities accept a record number of students as rising numbers of teenagers take A-levels in science and maths.
The Universities and Colleges Admissions Service (UCAS) said that as of midnight, 385,910 applicants had been accepted by UK universities and colleges — 31,600 more than at the same point last year, a rise of 9 percent.
It had previously been suggested by some that an increased focus on traditional subjects, such as maths and science, could fuel a slight drop in A level results, as youngsters who may not have considered taking these subjects in the past, and may not be as strong in them, are now opting for the courses to help their chances of securing a university place.
Biology, chemistry and physics accounted for 17.8 percent of all entries — up from 17 percent last year and 15 percent in 2009, the JCQ said.
One in eight, 12 percent, of entries were for maths or further maths, up from 11.5 percent in 2012r and 9.8 percent five years ago.
There were almost 24,000 more entries for the sciences this year compared with 2009, JCQ said, and nearly 19,000 more for maths courses.
The figures released on Thursday also show that the number of entries awarded an A* — the very top grade — also dipped in 2013, to 7.6 percent from 7.9 percent last year.
Boys have outperformed girls in the very top grade again this year, with 8 percent of boys' entries attaining an A* compared with 7.4 percent of girls.
Girls are still slightly ahead in A*-A grades combined, but their results dropped half a percentage point this year to narrow the gap between the genders.
Young people continue to turn their backs on many modern foreign languages, with both French and German entries down again this year. The numbers taking Spanish have risen by 4.1 percent on last year.
JCQ director Michael Turner said: "The continued rise in subjects such as the sciences, mathematics and the extended project, will be welcomed.
"However, that so few students take a language A-level is disappointing and, although Spanish continues to show growth, the overall trend remains downwards."
Mark Dawe, chief executive of the OCR exam board, said students are becoming "more and more savvy about choices they need to make at A-level for the career they want".
"The universities are being very transparent about what they expect – it's not just the grades, it's the type of subject they expect students to take, it's employers saying 'this is the degree we're looking at'."
Universities and Science Minister David Willetts denied that changes to the system could see students with three B grades missing out on a place at university.
"What we've said is that if you get an ABB or better, you are free to apply to any university and there are no limits on the numbers of students with those grades universities can take. That's about 120,000 students.
"There's going to be up to 350,000 students finding places and there's going to be many places also available for students with other grades."
Willetts also insisted students are not being put off applying to university because of £9,000-a-year tuition fees.
"Students, of course, recognise they don't pay the tuition fees upfront," he said. "They pay back as graduates if they are in well-paid jobs earning over £21,000 a year and I think young people understand that. Which is why we have actually got applications running at their second highest level ever."
The Institution of Engineering and Technology (IET) said the low number of girls studying maths and physics at A level is a worry.
Jayne Hall, IET policy advisor, said: "Maths and physics are crucial gateway subjects and vital to the industry and economy as a whole.
"With recent results from the IET?s Skills & Demand survey showing that only 7 percent of the engineering and technology workforce are women, action needs to be taken at an early stage by encouraging females into these subjects."
"Currently, female students effectively rule themselves out of an engineering career at age 14 by not studying maths and physics. We must change this so that students can make informed subject choices," Hall said.
Photo credit CC BY Flickr/Kalleboo http://eurone.ws/141GcQ1
AFP