UKIP MEP unrepentant about 'Bongo Bongo Land' comment
Comments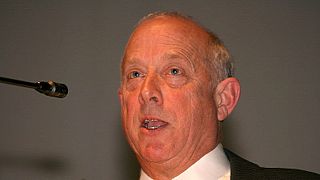 A eurosceptic British Member of the European Parliament has defended a comment he made about foreign aid being sent to "Bongo Bongo Land".
Godfrey Bloom, a member of the UKIP party that wants Britain to leave the European Union was filmed criticising the amount of money Britain gives in foreign aid to developing countries at a time when the UK itself is in the grip of public spending cuts.
"How we can possibly be giving a billion pounds a month, when we're in this sort of debt, to Bongo Bongo Land is completely beyond me," Bloom said in the video published by The Guardian . "To buy Ray-Ban sunglasses, apartments in Paris, Ferraris and all the rest of it that goes with most of the foreign aid. F18s for Pakistan. We need a new squadron of F18s. Who's got the squadrons? Pakistan, where we send the money.
While UKIP has never won a seat in the UK Parliament, it is expected to do well in next year's elections to the European Parliament, where it currently has 11 seats. The party led by Nigel Farage has been keen to try and polish its image and enter the mainstream. It has in the past been described by UK Prime Minister David Cameron as a party of "fruitcakes, loonies and closet racists."
One Labour party MP reacted to Bloom's comments by saying "If Nigel Farage is serious about getting rid of racism and intolerance in his party, he should take action against politicians who think it's acceptable to speak of people in developing countries in that way."
However UKIP has rejected calls for it to expel Bloom from its ranks. Party chairman Steve Crowther said:
"We are asking Godfrey not to use this phrase again…however, foreign aid is an extremely important debate that needs wider discussion."
Bloom has a history of controversy: he was forced to leave the European parliament three years ago after directing a Nazi slogan at a German counterpart. He has also said companies are crazy to employ females of child-bearing age, as they would probably have to pay for maternity leave. Bloom defended his comments on BBC radio's Today programme on Wednesday, saying:
"I think I'm standing up for ordinary people at the pub, the cricket club, the rugby club, the sort of people who remain completely unrepresented under the political system that we have…I don't do political correctness … The fact that the Guardian is reporting this will probably double my vote in the north of England."
"If I've offended anybody in Bongo Bongo Land, I shall write to the ambassador…and apologise to him personally."