TED winner Mitra warns teachers to be ready for change
Comments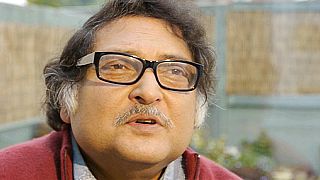 Newcastle, the United Kingdom. This is where Sugata Mitra, this year's TED award winner lives and teaches. Thanks to him, millions of children in the poorest areas of the world are now learning. It is no coincidence that Mitra and his family decided on one of the poorest areas of Newcastle to live.
Professor Mitra is a Physicist and teaches Educational Technology at Newcastle University. Some years ago he had a revolutionary idea: "The Hole in the wall". He installed computers in the streets of the slums of India and observed that children organize by themselves and learn naturally. So have we all a teacher's soul inside us?
"I do not know, I don't know if there's a teacher inside us but there's a learner inside us and that learner, anyway learns all the time. It's just that he decides what he wants to learn, what is important and what is not important. So if we don't turn the learner on properly then it doesn't learn. And I think what some of my Workshops show is that the learner can get  that done by curiosity and by mystery not so much by threat. You can't say to a learner: now you must learn, he can't control it if the little learner inside says: "sorry", then that's it."
For Mitra if you can learn something for yourself on the internet, no teacher is needed.
"Well as I've said we need some changes in teachers' training programmes pretty several changes… but most importantly we need a change in the examination system, otherwise my work would appear to be against teachers. It is not against teachers, it is against the kind of teaching the teachers have to do, because of the examination system."
Recently he visited one school where kids were supposed lo learn about French painter Paul Cezanne. They organized themselves in groups around computers and helped Sugata to understand that Cezanne was a pioneer: He gave dimensional life to objects using light and shadow
"First thing I do is tell them: I do not know anything about this. I don't even know how to spell his name so help me. So they made groups, is a matter I've called Self Environment Learning Environment, I've learned it from the hole in the wall: you have to have one computer and many children not one to one, it is a social thing."
According to Mitra's last experiment, the best teacher for a learner is a grandparent. Because they are not in a relation of superiority with the kids, (like parents or teachers), there is a friendly relationship. In his last experiment, "building a school in a cloud" grandmothers connected themselves by Skype with learners in schools in poor areas all over the world. They learn for each other and it works!
"They do it almost every day now and they do it across several countries, India, Colombia, and a couple of other countries in poor school areas. And to start with most of them used to be from Britain but now they are from everywhere. They are called « Skype grannies » or « the granny cloud » and now they are from France, from Portugal, from Turkey, from the US, from everywhere."
The one million dollars won with the TED Prize will be allocated to meaningful educational projects like using the Self-Organize Learning Method to raise education levels. Anybody interested in this kind of educational bridge?