Back in the Day: Warsaw rises up
Comments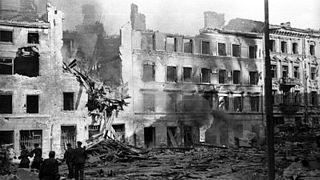 August 1, 1944. The Warsaw Uprising took place, designed by Polish resistance fighters to liberate Warsaw from Nazi Germany. The uprising began on August 1, as part of Operation Tempest, with the Soviet Army approaching Warsaw, having already driven the German Wehrmacht from Mother Russia. The goal of the Polish was to drive the German occupiers from the city and free Warsaw before the Soviets arrived, in order to claim sovereignty. The Soviets however ignored Polish attempts to establish radio contact and the Germans and Poles fought for 63 days. Joseph Stalin halted his forces outside the city, which led to the Polish insurrection being crushed despite British and US planes helping the Poles by dropping supplies. It is estimated that about 16,000 members of the Polish resistance died during this uprising. Fighting during the street skirmishes in the Uprising damaged around a quarter of Warsaw's buildings. Having crushed the Polish rebels, German troops went about sacking many other parts of the city. By the start of 1945, when events on the Eastern Front forced German troops to flee the city, an estimated 85% of Warsaw's buildings had been razed to the ground.
Also on August 1: Justinian I becomes the sole ruler of the Byzantine Empire (527); Slavery is abolished in the British Empire as the Slavery Abolition Act 1833 comes into force (1834); The first ascent of Monte Rosa, the second highest summit in the Alps (1855); Charles Whitman kills 16 people at the University of Texas at Austin before being killed by the police (1966); China starts a purge of intellectuals and imperialist at the beginning of the Cultural Revolution (1966); Video Killed the Radio Star is the first song aired on MTV on its launch in the US (1981).
Born on August 1: William Clark (1770), Herman Melville (1819), Pierre Bourdieu (1930), Yves Saint Laurent (1936), Jerry Garcia (1942), Jim Carroll (1950), Bastien Schweinsteiger (1984).