Back in the Day: Dolly, the first cloned mammal
Comments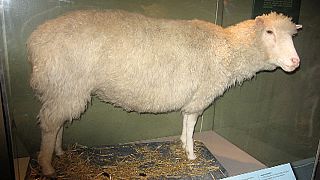 July 5, 1996 The first ever cloned mammal is born at a lab near Edinburgh in Scotland. Named Dolly, she was conceived by a method known as 'somatic nuclear cell transfer', where the nucleus is removed from one cell and implanted in an egg cell before the resulting cell is split and transferred to a surrogate mother. Dolly started out as a mammary gland cell, and the Scottish researchers gave her the name in tribute to Dolly Parton, owner of some of the world's most famous mammary glands. After breeding with a Welsh mountain ram, Dolly gave birth to twin lambs in 1999 and then triplets in 2000. She was put to sleep by vets at the age of six on February 14, 2003 following problems with arthritis and lung disease. Her preserved body is kept on display at the National Museum of Scotland. Since Dolly, scientists have successfully cloned many other, larger mammals including horses and bulls, although the team behind Dolly say the technique is a very long way from becoming efficient enough to produce cloned humans.
Also on July 5: The Salvation Army is founded in London (1865); the bikini goes on sale for the first time, at a fashion show in Paris (1946); Algeria gains independence from France (1962); Europe's tallest building, The Shard in London, is inaugurated (2012).
Born on July 5: Jean Cocteau (1889), Georges Pompidou (1911), Gyula Horn (1932), Huey Lewis (1950), Gianfranco Zola (1966), Eva Green (1980).