100 years on: the history of the Tour de France
Comments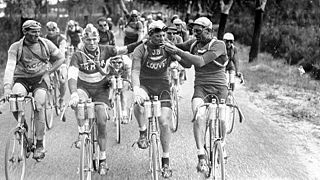 2013 is somewhat of a special year for the Tour de France, as it celebrates both its 100th edition and its 110-year anniversary. Since its inception, the race has brought great feats, gruelling competition, outstanding statistics and, of course, doping scandals.
Go straight to…
Timeline
Tour trivia
Tour outside France
Doping
El Diablo
Recurring runners-up
Tour Stats
Age
Geography
Mountains
Riders
Race records
Wins and yellow jerseys
Timeline
Tour trivia
When the Tour starts outside France

When the Tour starts outside France

Show Tour de France starts outside France on a larger map
Doping
With post-race confessions becoming worryingly common it's now known that drugs, in particular amphetamines, were widespread from early on. One example is Jean Malléjac who admitted he doped as a rider, telling reporters he just escaped death in 1955 when he collapsed on the road to Mont Ventoux.
Various doping tricks adopted by the riders to evade detections are revealed: – In 1978 Michel Pollentier attempted to provide a fake, clean urine sample but was immediately caught and excluded. – In 1998 Willy Voet, coach for the Festina team, was arrested for possession of hundreds of doses of doping products. The entire team was excluded from the race. – In 2013 the confessions of Lance Armstrong led to him being stripped of his seven titles and drew media attention from all over the world – Since Armstrong's public admissions Jan Ullrich also confessed to doping and Laurent Jalabert was challenged on the basis of samples dating back to 1998.
Watch our interview with David Moncoutié : The majority of them were cheating…
El Diablo
Didi Senft
is a German bike designer who is known for building the world's biggest bike. He is now well known for his devil-disguised support of the Tour de France.

Photo cc simyo Deutschland
Recurring runners-up
Joop Zoetemelk, six finishes in 2nd place: 1970, 1971, 1976, 1978, 1979, 1982. He won the race in 1980.
Jan Ullrich, five times runner-up: 1996, 1998, 2000, 2001 and 2003. He won the Tour in 1997.
Raymond Poulidor, three times runner-up: 1964, 1965, 1974. He also holds the record of podiums, ranking eight times in the first three. .
Tour Stats
Age
Youngest winner
almost 20 years old
Henri Cornet in 1904 after the disqualification of the first four riders.
---
Oldest winner:
36 years old
Firmin Lambot in 1922
---
Oldest participant:
50 years old
Henri Paret in 1904
Geography
Most visited city on the tour (except Paris)
80 times
Bordeaux
---
Corsica
The only region to have never held the race until 2013. The first three stages of the Tour 2013 will be held in Corsica.
Mountains
Highest altitude reached:
2,802 metres
The road between Bonnette-Restefond (entre Nice et Gap), (between Nice and Gap). The race passed the route in 1962, 1964, 1993 and 2008.

Col de la Bonette
Different climbs per mountain range
Alps & Alpes-Maritimes/Provence – 98
Pyrenees – 57
Massif Central – 26
Cévennes – 19
Vosges – 17
Forêt-Noire & Jura – 12
Total : 229
---
Highest finishing point
2,645 metres
Col du Galibier, Alps (2011)
---
Most visited climbs
Individual Pyrenees hills have been visited more regularly than those in the Alps.
Pyrenees
76 times, Tourmalet, 2,115m | 72 times,Aubisque, 1,709m | 71 times,Aspin, 1,489m

Col du Tourmalet – photo ccSoumei Baba
Alps
58 times Galibier, 2645m | 39 times Aravis, 1498m
37 times Col du Télégraphe, 1566m | 33 times Col d'Allos, de l'Izoard et de Vars

Col du Galibier- photo ccSoumei Baba
L'Alpe-d'Huez has been visited by the Tour just 26 times.


The hairpin turns of Alpes d'Huez – photo cc VerTdeTerre
Le Mont Ventoux, celebrated for its views but infamous for the death of Tom Simpson has been climbed by the riders 13 times.
Participants
Highest number of runners
1903, 1st Tour de France -> 60 riders entered, 21 finished
1928, the largest number of dropouts -> 162 riders entered, 41 finished
121 dropouts
1986, the largest number of participants -> 210 riders entered, 132 finished
2012 -> 198 riders entered, 153 finished
2013 -> 198 riders entered
---
The largest number of tours by a participant
16
By Joop Zoetemelk (Netherlands)- between 1970 and 1986. He won the Tour in 1980.
---
Longevity
19 years
By Eugène Christophe- first appearance in 1906 and the last in 1925 at the age of 40.
Race records
Most stage wins
34
By Eddy Merckx
---
Smallest gap/biggest gap (since 1947) between 1st and 2nd place
8 seconds between Greg LeMond and Laurent Fignon in 1989
28m17s between Fausto Coppi et Stan Ockers in 1952
---
Highest average speed
57.3 km/h
Team time trial – Discovery Channel, Tours-Blois (67,5 km)
55.1 km/h
Prologue – Chris Boardman, Lille-Euralille (7,2 km)
54.5 km/h
Individual time trial – Greg LeMond, Versaille-Paris (24,5 km) in 1989
50.3 km/h
Non time-trial – Mario Cipollini, Laval-Blois (164.5 km) in 1999
---
Longest breakaway
253 km
Albert Bourlon in 1947, Carcassonne-Luchon
Wins and yellow jerseys
Most wins
7
by Lance Armstrong (1999-2005) disqualified and stripped of all 7 titles for doping
5
-by Jacques Anquetil (1957, 1961-1964), Eddy Merckx (1969-1972, 1974), Bernard Hinault (1978, 1979, 1981, 1982, 1974), Miguel Indurain (1991-1995)
---
Most days wearing the yellow jersey
111 days
By Eddy Merckx, followed by Bernard Hinault (79 days), Lance Armstrong (83 days), Miguel Indurain (60 days), Jacques Anquetil (52 days)