Back in the Day: Soviets win the space race
Comments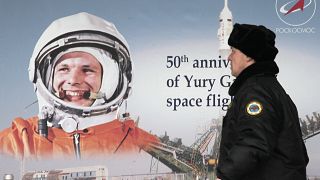 April 12, 1961: The Soviet Union wins the space race against the USA when Yuri Gagarin becomes the first man in space. Gagarin was launched into orbit on the Vostok 3KA-3 spacecraft (Vostok 1) after two years of secret preparations. Before landing back on Earth, he travelled at more than 17,000 miles (27,000 kilometres) per hour for 108 minutes.
Despite the disappointment of the Americans, who had hoped to be the first in space, Gagarin was congratulated by both the Soviet leader Nikita Khrushchev and American President John Kennedy.
Also read- Gagarin through the eyes of those who knew him
Also on April 12: 1606- English and Scottish ships adopt the Union Flag (or Union Jack); 1633- Galileo Galilei is convicted of heresy; 1857- Gustave Flaubert's "Madame Bovary" is published; 1945- US President Franklin D. Roosevelt dies; 1946- Syria gains independence from France.
Born on April 12: 1924- ex-French Prime Minister Raymond Barre; 1941- English footballer Bobby Moore; 1942- South African president Jacob Zuma; 1947- American author Tom Clancy