Cyprus bank customers on bailout hook
Comments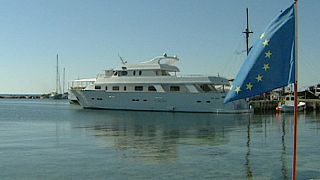 Anxious residents of Cyprus with money in the bank have been unable to take it out.Cash dispensers have dried up and bank doors are locked. The bank accounts of individuals have been directly linked to a European bailout plan for Cypriots.
The government says it was left with no choice, and that the alternative was a losing proposition. Now small account holders as well as large are dreading the pinch where it hurts most: their wallets.
As things currently stand, Cyprus is waiting for 10 billion euros in aid from the EU and the International Monetary Fund. One of the conditions is that accounts of less than 100,000 euros be taxed at a rate of 6.75 percent, and above that line at a rate of 9.9 percent. The island first asked for 17 billion euros, which was cut back. The bank account measure is aimed at grabbing up 5.8 billion euros.
Corporations will also be expected to lighten their wallets. Till now the tax rate on them has been the lowest in the EU.
It will be raised from 10 percent to 12.5 percent – the same as in Ireland. And it's not only foreign companies that will be affected.
Any non-Cypriot with financial resources in Cyprus is concerned, British expats, for instance, and Russians, many of them quite well-off. Officially registered, there are 8,000 of them, and many more unofficially. But the source of their wealth is sometimes unclear. The EU is therefore sending a terse message to any money-launderers.
Experts estimate that Russian bank holdings in Cypriot financial establishments amount to some 12 billion euros, and that Russian corporate deposits tally around 19 billion.
One of the effects of the conditions placed on bailout funding could be a crackdown on Cyprus's mini-tax-haven status in the European Union. Although roughly 37 percent of account holdings here are of non-Cypriot origin, it has suddenly become less attractive to keep money in Cypriot banks.
For more perspective on this, euronews spoke to joined by Maria Joao Rodrigues, a professor at the Institute of European Studies in Brussels, and an advisor to a number of European institutions.
Frederic Bouchard, euronews: "For the first time in a bailout, bank depositors are having to contribute, has the European Union broken a taboo?"
Maria Joao Rodrigues: "I think you have to remember that the European Union had adopted a very clear principle of protecting people's savings up to 100,000 euros. That clear principle was set after the 2008 financial crisis in order to prevent contagion following the collapse of Lehman Brothers. So, in my opinion, we have to respect that principle."
euronews: "Is there not a risk of contagion in the euro zone?"
Maria Joao Rodrigues: "The risk of contagion is limited because we are not talking about a big event. But anyway, the European authorities must clearly state the principle that was adopted – that the protection of small investors in Europe will be respected. Don't forget that this is a key principle of the EU banking union that is being set up. So that's another reason to stick to this principle of protecting the bank savings of Europe's small account holders."
euronews: "However, Cyprus accounts for just 0.2 percent of Europe's GDP, which is not much. They are being lent 10 billion euros. Is this not a sign that the eurozone countries – and especially Germany – are fed up just giving money and they want the countries concerned to take some responsibility?"
Maria Joao Rodrigues: "I think Cyprus really needed this European loan to stop it slipping and the crisis getting serious, but having said that the loan must be provided under conditions that make Cyprus responsible as well, there has to be an effort by the country as well. Are we going to ask Cyprus's small investors to contribute, and the big savers in Cyprus? Is this going to include investors who are outside Cyprus? Are we going to involve the big investors who are not from the European Union? That's to say, the Russian investors."
euronews: "Exactly, you mention Russian assets, maybe 15 to 20 billion euros, perhaps dirty money, is this a way for the eurozone to clean up the Cypriot banking system?"
Maria Joao Rodrigues: "Yes, I think this bailout loan process in Cyprus should be used to make the Cypriot banks more transparent, because in my opinion it is not good to use euro area banks for Russian investors' financial transactions that are not clear. So we must clarify that. I really thing that is the thing that must be clarified."
euronews: "The financial markets fell as a result of this. Is there a risk of uncertainty returning to the markets after they have been stable for several weeks?"
Maria Joao Rodrigues: "Yes, I think that could be a problem. I'll say again: we're facing a small economic and financial problem, but we have to pay attention to the psychological effects around this sensitive area – that is protecting small savers' money – and therefore, in my opinion, a very clear message has to be sent as soon as possible by the European institutions, starting with the European Central Bank."