Geneva Motor Show: a tale of two markets
Comments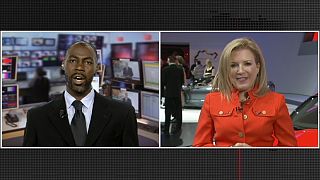 It is all shiny new cars and beaming smiles at the Geneva Motor Show, but what is the real state of play in the market in Europe and elsewhere?
In this edition of News+ we speak with Susan Docherty, President and Managing Director of Chevrolet Europe, but first a tale of two car markets.
Last year new car sales in the US rose by a robust 13 percent to a total of 14.4 million vehicles. That was in sharp contrast to Europe where there was a drop of 8.2 percent in vehicles leaving the showrooms.
The trend has continued into this year with US sales up 3.7 percent year-on-year in February while in Western Europe they fell by 10.6 percent.
The forecasts also diverge with carmakers predicting further declines on this side of the Atlantic and modest improvements in the US.
General Motors – which sells its Chevrolet models in Europe alongside the Opel brand which it owns – has made a splash at Geneva unveiling its new Chevrolet Corvette Stingray though it doesn't go on sale here until next year.
Tokunbo Salako, euronews: "The US car industry seems to have turned a corner, while Europe is splutting on. Joining us now from the Geneva Motor Show is Susan Docherty, President and Managing Director of Chevrolet Europe. Thanks for being with us. You're launching a supercar at Geneva, tell us about that."
Susan Docherty: "Well, here in Geneva we have the global premiere of the new Chevrolet Corvette convertible. This is an incredible performance sports car that we are launching here in Geneva and we most recently launched the coupe version back in January in Detroit."
euronews: "Launching a supercar in what is a depressed market, is that a wise move?"
Susan Docherty: "Well, I will tell you that definitely the Corvette represents the soul of our company and creates a lot of interest for the Chevrolet brand and when you think about a down market like Europe (is now) what you want to be able to do is capitalise on some of the opportunities and when we think about the two most famous, iconic brands within our portfolio, one of them is Corvette and the other is Camaro. So what this kind of product and launch will do is create traffic into our showrooms, and that gives us an opportunity to present the rest of the vehicles in our line-up."
euronews: "It's not been that long that Chevrolet has been active in Europe, and you seem to be bucking the trend; whereas other of the major European carmakers have all been really struggling of late. What is the reason for your success?"
Susan Docherty: "Well, Chevrolet is a relatively new brand that was relaunched here in western and central Europe back in 2005, and over the last 18 months we've introduced 10 new products to the European marketplace. So it is important – even in a down market – to look for opportunities – and small SUVs is certainly an opportunity for us and one that we want to present to European consumers."
euronews: "Looking at the US, you've done extraordinarily well there and returned to growth, how important is it for you to consolidate your position here in Europe?"
Susan Docherty: "One comment I would make about the US is that we saw that market drop down to less than 10 million units (vehicles sold) three or four years ago, and of course the market is coming back very strong. The health of the United States market and Chevrolet's growth is built on the fact that we continue to introduce product after product after product and globally Chevrolet will introduce 20 new products in 2013; five of which we will introduce here in western and central Europe, and I think that what you have to do – even in a down market – is find the opportunities and you need to keep focusing on trying to grow your brand and that is exactly what we're going to try to do here with Chevrolet."