Could Bart's breakthrough lead to Belgium break-up
Comments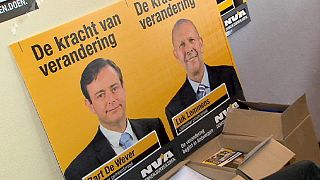 The big local election gains of the Flemish nationalist party on Sunday has once again raised the spectre of a break-up of Belgium.
Addressing supporters in Antwerp the NVA's leader, Bart de Wever, called for a radical shake-up of politics at the national level.
''We want the Flemish people to have the power they are seeking at all levels. I therefore make this call to Prime Minister Elio Di Rupo and the French-speaking politicians: do your duty and prepare, together with us, for confederal reform,'' de Wever said.
But, Prime minister Di Rupo rejected the significance of the result.
''I acknowledge the NVA's success", he said. "Now they're going to run the districts that they've won. But local elections and the national level are not the same thing at all.''
Despite that, the NVA's success is almost certain to pile pressure on Belgium's fragmented national government. The three Flemish parties in the country's six-party coalition all suffered losses.
Any bid by them to win back voters wanting more power for Flanders could undermine cooperation with French-speaking partners.
Euronews spoke to Pascal Delwit, a political expert at the Free University of Brussels, to get more insight on what the NVA's electoral triumph might mean for Belgium. To see the full interview, please click on the video link above.